2011年 03月 16日
10:20
From President Toh of the Fukuoka Area Association:
We established a Disaster Relief Committee under the General Affairs Department of the Fukuoka Area Association to be a point of contact as we exchange information and correspondence with the Disaster Relief Headquarters of the JBC.
We appointed Rev. Hiroshi Harada of Fukuoka Church as the leader of this committee, and Rev. Hiroki Nonaka of Tosu Church and Rev. Toh of Nakagawa Mission Point as members.
10:18pm
From the President of Misawa Church's Men's Group, Mr. Komukai:
A report on receiving a visitor from Hakodate:
Rev. Sasaki of Aomori Church informed me by phone that Rev. Masayoshi Fukuda of Hakodate Mihara Church entered this prefecture as a part of the JBC's emergency response.
About 1.5 hours later, Rev. Fukuda arrived at a Misawa Area Church by car.
1). The damage to Misawa Church is minimal, but he checked on our needs and requests.
2). I Contacted Komatsugaoka Mission Point (Rev. Horigome), and took Rev. Fukuda there. On our way there, we encountered a long line of gasoline trucks at the gas station.
We arrived at Komatsugaoka Mission Point and checked on their situation with Rev. Horigome.
3). We departed for Calvary Baptist Church, checked on their situation and discussed their needs with Rev. Armand and his wife.
By the time Rev. Fukuda visited the three churches in the Misawa area, it was after 2:00pm, and he departed for Same Church in Hachinohe.
※Gasoline will soon run out. I was most concerned with Rev. Fukuda's plan from this point, but a car is the only means of transportation available.
A cold front hit this area yesterday, and the weather is bad, including flurries. I thought it very important for him to ensure safety in travel.
I have been praying that God will open a path for Rev. Fukuda and the victims of the disaster, as the Lord made a path for Moses and the people of Israel in the Old Testament, who, followed by an army, walked along the bottom of the sea.
Also, this has made me think about what we could do.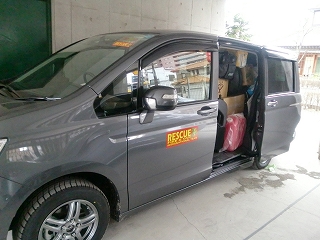 8:48pm
A Report from the Kita Kanto Area Association Team:
The first team that we sent arrived safely in Sendai City at 7:50pm, and visited several churches.
Currently, we are providing supplies such as medicine, kerosene, cup noodles, vacuum-sealed food, canned food, paper plates and cups, batteries, heat packs, wet tissues, gasoline, maxi-pads, surgical masks, etc.
The team will spend the night at Nankoudai Church. They will deliver those supplies to the neighborhood shelters.
※Many thanks to Urawa Church and the Town Committee of Tokiwa's 7th District for their support of this team.
※Due to the given traffic conditions, the amount of rescue supplies is limited. Also, please understand that it is difficult to provide supplies steadily. -The Disaster Relief Headquarters-
3:56pm
A Report from Rev. Fukuda in Hakodate:
Aomori Church:
Met with Mr. and Mrs. Akimasa Sasaki. All church members are uninjured. There are cracks on the outer wall of the building, but no major problems.
Aomori City has recovered electricity, natural gas, and running water. They lack gasoline, bread, milk, etc. There is no shelter in the city.
They want to do something for the impacted areas, but they don't have gasoline, so they can't even get there.
Misawa Church:
Met with the church secretary, Mr. Komukai. Confirmed that all church members and relatives are fine. No damage to the church building.
Misawa City was damaged when the tsunami hit the Misawa fishing port. Electricity, natural gas, and running water are all back on. They lack gasoline. Food supplies are scarce. There is no shelter in the city.
Komatsugaoka Mission Point:
Met with Rev. Jujiro Horigome. Confirmed that all church members and relatives are uninjured. No damage to the church building. They hosted about 15 people from the neighborhood for two days after the earthquake.
There are many elderly people in the neighborhood without any relatives. They want to be of help.
Calvary Church:
Met with Mr. and Mrs. Armand Jalbert. Confirmed that all church members and relatives are uninjured. One member's fishing business lost its building in the tsunami.
Starting today, the church will host about 65 foreign English teachers from the Sendai area. There are many offers from America to help out financially and to send personnel.
They would like to make the best use of these offers in cooperation with the JBC.
(The work of Rev. Fukuda is supported by the prayers of Hakodate Mihara Church, the Hokkaido Area Association, and the JBC. Please continue to pray.)
3:02pm
Announcement from Secretary Murakami of the Women's Union and Coordinator Enomoto of the Missions Department:
We would like to announce that after discussion we decided to postpone until next year both the All-Japan Children's Camp and the Leadership Training Program that were scheduled to take place at the end of this month.
Next year, incoming 5th, 6th and 7th graders will be able to attend this camp (to include this years incoming 6th graders, since they will be unable to attend this time).
The Women's Union and the JBC will cover any cancellation fees incurred on tickets for either the camp or the training program.
Detailed information will be mailed out from the Women's Union.
7:20am
From the Disaster Relief Headquarters:
・It has been reported to us that Rev. Fukuda has arrived in Aomori from Hakodate. Please pray.
・Today, around noon, a team made up largely of members of the Kita Kanto Area Association will depart with food and supplies. They will go to Sendai City via Niigata. Please pray.
7:07am
From the Disaster Relief Headquarters:
Last year we learned in a symposium held in Kobe that there have been occurrences of sexual violence, such as rape and domestic violence in refugee environments, and it is especially difficult for women and sexual minorities in such circumstances. We feel the need to implement the advice of those who experienced the Hanshin/Awaji (Kobe) earthquake.
The JBC Sexual Issues Committee is preparing to send out memos on this subject, but the following links offer some basic information that should be widely known:
http://homepage2.nifty.com/bousai/
http://homepage2.nifty.com/bousai/noto.html
We consider it necessary that the following be widely known:
1). Government administrators should act with this information in mind.
2). The media should report incidents of sexual violence openly.
3). Current refugees should be given information from former victims.
00:51am
From Rev. Fukuda of Mihara Hakodate Church (partially revised by the JBC):
1). A prayer meeting will be held on the 15th at 8:00pm to send me off.
2). I will take a ferry from Hakodate to Aomori, leaving at 3:00am on the 16th. I should arrive in Aomori at 6:40am.
3). From that morning, I will visit as many of the following as possible: Aomori Church, Calvary Church, Komatsugaoka Mission Point, Misawa Church, Hachinohe Church, Same Church, and Morioka Church.
4). I will check on the safety of church members and their relatives, observe the condition of that area, gather requests from those churches, observe the conditions in shelters in the area, and I will pray with people. I will find out whether those churches have specific plans for the near future.
5). This time I am going alone. I wanted to go with other church members and Rev. Honda of Hakodate Church, but after packing gasoline tanks, a sleeping bag, and food, only one of us could fit in the car.
From the Disaster Relief Headquarters