2014年 01月 28日
2011.3.11 Great East Japan Earthquake
Local Aid Committee News Letter From Tohoku
11th December 2013 Issue #10
To all the churches around the nation, thank you for your daily prayers and offerings. The cold snowy season has started in Tohoku (North East Japan). It is our third winter since the Great East Japan Earthquake. Please pray for the lives and health of the people devastated by the earthquake. This issue will report about the aid work carried out in Miyagi prefecture, Motoura Temporary Housing and Miyamae Temporary Housing.
Ishinomaki City Motoura Temporary Housing
The Start of Motoura Temporary Housing
Taitomi Church has continued to support Motoura Temporary Housing in Ishinomaki city since 2011. This started when missionary Gelhart ran into the coordinator of Motoura Temporary Housing in Ishinomaki Okaido. She was shopping with some volunteers from Hawaii. As she talked to the coordinator about the work the volunteers were doing, she found out that for some reason Motoura Temporary Housing had not been receiving any volunteers. The Gelharts decided to contact the Towerys of Taitomi Church to ask them to visit Motoura Temporary Housing. This is how Taitomi Church became involved with Motoura Temporary Housing.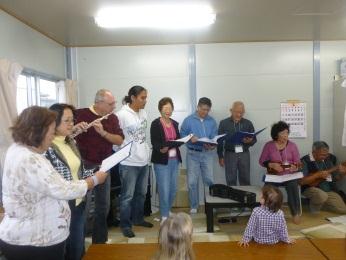 Volunteer Team from Hawaii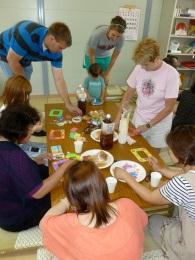 Volunteer Team from Missionary Towery's home church, Arlington First Baptist Church
Working with International Volunteers
At the beginning, we received donations from America and Japan, and with these donations we were able to hand out blankets and heaters. From the spring of 2012, we also started receiving international volunteers and have been able to visit temporary housing and also hold gatherings. When the Hawaii team came, we had workshops to make leis and also had Ukulele performances of traditional Japanese songs. When the Texas team came, we held Bingo competitions and line dancing. When the Korean team came, we had workshops to make things such as picture stands. It has been truly encouraging to be able to receive the international guests who were sent to us through the prayers of many churches around the world. Also, to be able to serve with them has been a great joy and encouragement for our church, which is in a disaster area. Furthermore, the fact that international volunteers continue to visit despite all the time that has passed is always of great comfort.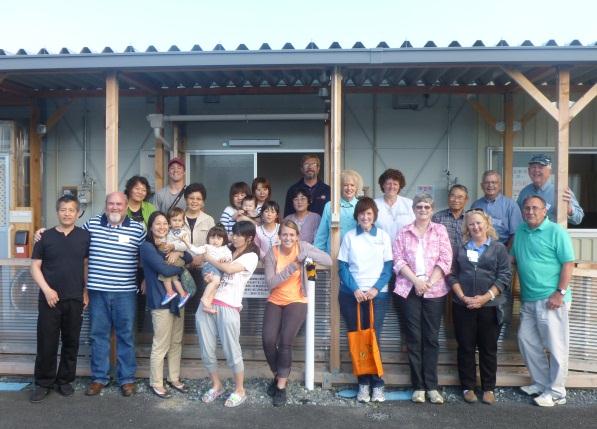 Volunteer Team from Texas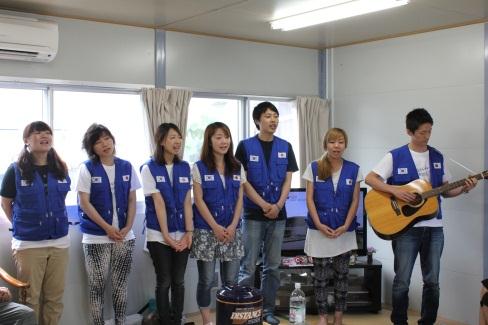 Second visitation by the Korean church, Onnuri Church
Taitomi Church's Continued Projects
From 2012, our church members have been holding visitations, having tea and sending care packets to 40 households. This allows us to serve even when we have no international volunteer teams. We do this once every two months. Many of those in temporary housing are elderly or live away from their families, so when the children from our church visit they play with them and adore them as if they were their own grandchildren. Each time we visit they tell us, "Make sure to come again!" On the first Sunday after a child was born to one of the church members, the coordinator of Motoura temporary housing came all the way to church just to celebrate the birth. It gave us great joy when she commented, "what a wonderful place church is."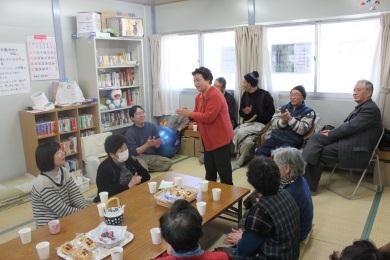 Sharing and singing of traditional songs, and a hand-dance performed by a church member
In December, we sent Christmas cards that the children had made along with flowers to the households. Although the things we can do are limited, we pray that we can continue visiting the people in the temporary housing, connecting to them and getting to know them. Also, one of the international volunteers that visited Motoura temporary housing has sent us a request to visit again in 2014. We hope that we can continue to serve those that were impacted by the earthquake in a way that connects not only the prayers of our own Taitomi Church, but also those from all over the world.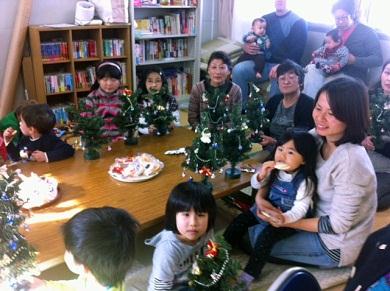 Christmas Party
Taitomi Church, Yu Towery
Wataricho Miyamae Temporary Housing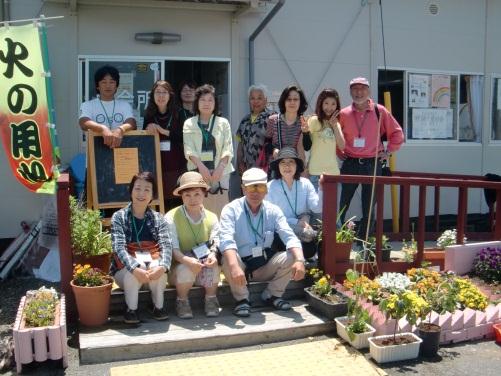 Supported by Churches All Around the Nation
North Sendai Church has continued to visit Wataricho temporary housing twice every month. Wataricho, which is about an hour by car from our church is known for its warm weather, and used to be popular to surfers for its waves and beautiful coastline. The food was known to be delicious, and Wataricho was famous for its strawberry production. For the people of Wataricho, the Great East Japan Earthquake not only damaged their beloved home, but it took away from their purpose and joys of daily life. We believe that Jesus Christ continues to be beside those in Wataricho. With this hope and faith we continue to visit those that have been devastated, supported by aid from all over Japan.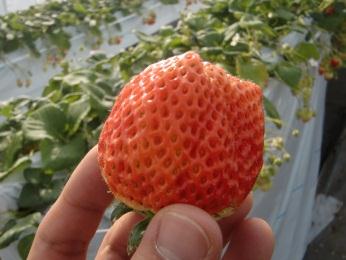 Wataricho's Strawberry production. A Strawberry from a devastated strawberry greenhouse
1000 Days since the Devastation Began
The people of Miyamae Temporary Housing each have been striving to create new lives for themselves. There are those who repair their damaged homes to return to them. Some are in search of new land to live on. There are also those that apply for public housing. When we think of the challenges and burdens that these individuals face, we cannot help but pray. Wataricho Miyamae Temporary Housing, which used to hold a maximum of 85 households, now holds 62 households. This is great news, but at the same time having to bid farewell to those whom we have been with for over 2 years is also very sad.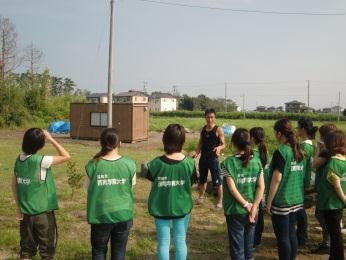 Sharing experiences of the disasters with students in front of their former homes.
In order to ensure that those who leave temporary housing do not feel lonely and insecure, we have been putting effort into visiting their new homes. We want to continue the friendships that Jesus Christ has provided us and develop them. Those that were impacted carry wounds that time cannot simply heal. 1000 days from the Great East Japan Earthquake, the people of Wataricho live on. Some have started sharing their experiences of the disasters, inviting students to the homes they had to leave.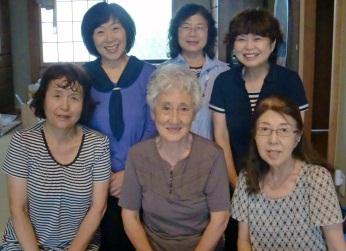 Tea Time at the house of a former temporary housing resident who has returned home.
They say that if they don't do something, these events will pass and be forgotten. Some say that this time they want to be the ones that give, and donate goods to the World Prayer Week Bazaar. There are those that have once again returned to producing strawberries. There are those that patiently endure, waiting for the day when they can enter public housing. We pray that we can somehow help and support these people. Do please continue to support and pray for us.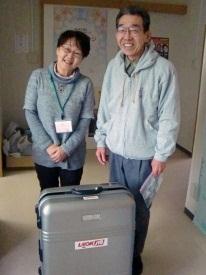 With a man who donated his suitcase for the bazaar
(North Sendai Church, Makoto Kanamaru)
Local Aid Committee News Letter

Published in December 11 2013

Japanese Baptist Convention Great East Japan Earthquake Local Aid Committee
President Masato Osuga