2013年 11月 28日
Oshika Peninsula Aid
The Beginning of Aid in Oshika Peninsula
Immediately after the Great East Japan Earthquake, the Convention Task Force carried out a survey on the areas affected by the earthquake. Aid work started after coming in contact with the people in Oshika Peninsula. In early April, we started sending aid to Momoura evacuation center (Oginohama Elementary School) and to "Kyubunhama Task Force".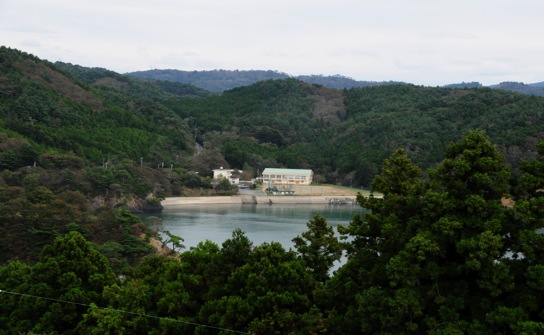 (Oginohama Junior High School has become the new place for aid after finishing aid work in Oginohama Primary School. Every week, we carry out food handouts and pest control.)
With the cooperation of the North Kanto Association, we have been able to start food handouts that take place once a week. Also the "Miyagi Team", consisting of members from 5 different churches in Sendai prefecture, has been able to hold consultations with the people of Oshika Peninsula. This has helped in figuring out the how to carry out the aid work.
Through the consultations, we have decided to carry out aid that "stands beside" the victims of the disaster. We have also decided that our involvement with the disaster area should be thin, but over a long period of time. Therefore our aid work will be at a pace of once a month. We have also decided to aid people living not only in temporary housing, but people who have houses to live in.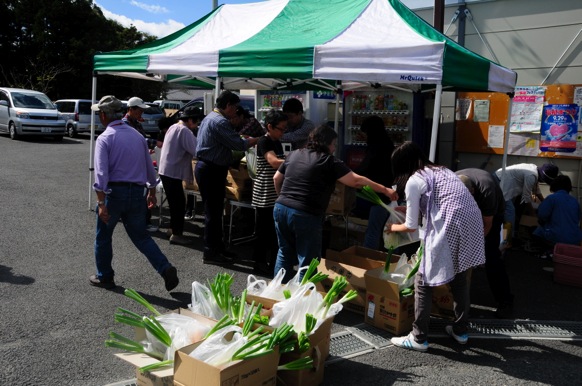 The "Miyagi Team" started aid work in Oshika Peninsula on the 17th September 2011. It takes 5 hours from Sendai to Oshika Peninsula and back. We received information that people are lacking fresh vegetables in Oshika Peninsula, so we have been providing a bag of vegetables for each household. In addition we have had opportunities to talk to the victims of the disaster by setting up a sweets and café corner. We were able to set up this corner by borrowing the consultation room that was offered to us.
The aid work in Oshika Peninsula, which has been carried out once a month, has carries on until this day. The aid work has continued to keep the victims of the disaster at heart and has allowed us to partake in the gospel with them. In March 2012, we found out through the Ishinomaki City Council Social Welfare Meeting that Tsukiura and Makinohama were also in need of aid. Currently, we provide aid for approximately 140 households in Kyubunhama, Oginohama, Makinohama, Takenohama, Tsukiura, Ayukawahama, and Kurosaki area.
Tea Café (Ochakko)
The Makinohama mayor said that from now on, the aid that is wanted is not so much material aid, but aid where people sit beside the victims, drink tea with them, and simply take time to listen to them. The elderly are prone to hide away from public, so it is good to provide a place where people come together and spend time together. The vegetable handouts can provide a good opportunity for people to come out of their homes and lead them to spend time with others at the café.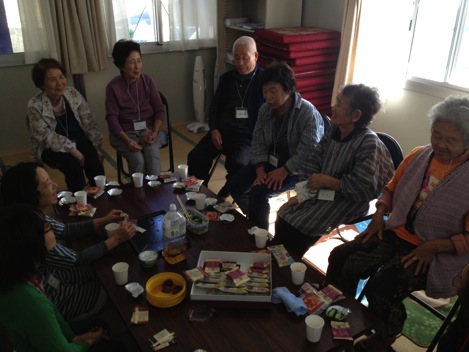 Currently these cafés are being held in Kyubunhama and Makinohama with Taitomi Church and Sendai Church planning and managing the project respectively. In the beginning, the Café was simply a place to eat snacks and drink tea, and to talk freely. However, this gradually became a place where people could sing folk songs together, to celebrate Tanabata together, and a place to hold activities like finger knitting. Through these activities, new projects have also come about and now there are also gatherings for singing (Utakko). With the help of a church member who is a music therapist, we have been able to regularly have music therapy sessions where we have shared both laughter and tears.
What is more, through the hand made cookies and regional gifts sent from churches and ministry centers from all over Japan, we have continually been encouraged and reminded that people still have the victims of the disaster at heart. Another function of the café is to connect the victims to churches and ministry centers all over Japan. We would like to thank all of the churches around Japan, but also ask for continued prayer for the people of Oshika Peninsula.
The Coast and Its Current State
The plans for transferring the households to higher ground have been set, but the construction for residential development has just started. Even at the earliest, the completion date for the residential development is thought to be sometime in March 2014. It is after this that the construction of the public housing complexes will start. Therefore, it will take from 1 to 2 years until the residents in the temporary housing will be able to move out of their stressful living conditions which is a great burden to their hearts and bodies. There is also a shortage of needed materials and expertise for the reconstruction of the destroyed harbor and its quay and the elevation of the subsidence of the beach. This is leading to the delay of the reconstruction of the coast and the construction needed for earthquake and tsunami reaction. With the 2020 Olympics being held in Tokyo, there are worries that there will be delays in the reconstruction for the devastated areas. There are also cries that some may never live long enough to move out of the temporary housings.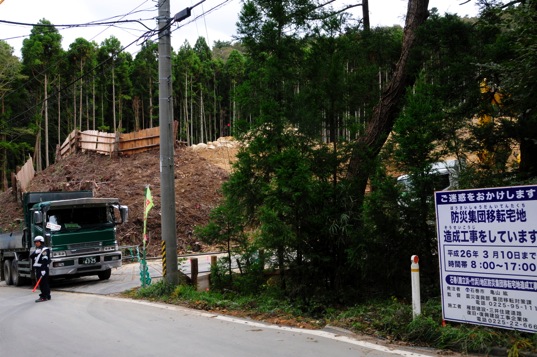 The construction for moving the residents to higher ground just started.
Oshika Peninsula's main industry is oyster production. This industry has been resumed since the tsunami, but without public aid it is extremely difficult to rebuild the industry. The fishermen have not only lost their homes, but their boats, and most of their tools. There are many hurdles in attaining the aid needed. This makes it difficult to rebuild the coast. The oyster harvest is in autumn, but because of typhoon 26 much of the oysters that were close to harvest were swept away. This has lead to much loss. Furthermore, with the increase of fishermen quitting their jobs and moving into the city, there is a steady loss in Oshika Peninsula's population. There are bays where the population has decreased down to a half or a third. It is also rare to find children in this area and there are a number of elementary schools that have been forced to temporarily close for the lack of students. This also points to the reality that many young families, that lost their homes, find it difficult to come back. This leads to a loss of community.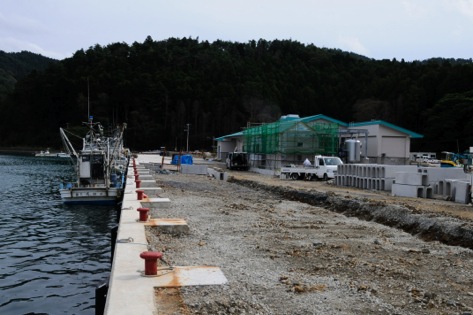 Construction for the elevation of the subsidence
In circumstances such as these, how should the church involve it self within the community? This question is a question of church ministry, and is perhaps a challenge that has been sent to us from Jesus Christ. (Sendai Church: Chieko Ichinose/ Yoshinobu Ogawa)
Topic
In the front of one of Sendai's major supermarkets is a special corner named "Momoura Oysters". Companies that only just received their fishing rights are using the name of "restoration aid" to market their goods. However, it is unreasonable to think that it is only Oshika Peninsula's Momoura Oysters that are being advertised.
In Momoura there is a man that stayed in the Miyagi Prefecture Fishery by himself. This man is no longer permitted to use the Momoura oyster abattoir, which has now become a private ownership. However he continues to labor on, despite the fact that he can no longer use the abattoir in Momoura. He must go to the neighboring fishing harbor to use the oyster abattoir there. The weight of freshly collected oysters that still have their shells on is extremely heavy. Simply carrying these oysters to the abattoir is a heavy workload within itself. This man must continue going to the neighboring abattoir until the March of next year. Not to mention that he is the only one left. As was mentioned in the Mission Theology Forum, the situation of these people will not change unless these "powers" which continue to take advantage of the weak are fought. (Taitomi church…
Local Aid Committee News Letter
Published in October 23 2013
Japanese Baptist Convention Great East Japan Earthquake Local Aid Committee
President Masato Osuga