2012年 12月 19日
JBC relief team visited the Nodamura Temporary Housings Complex on Friday, November 16. This visit was the 16th time; though we visited to encourage the residents, they always seem to encourage us.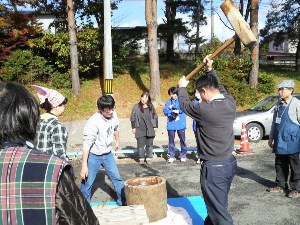 We made traditional rice cakes in the assembly hall of Noda Junior High School Temporary Housings Complex (about 110 families). The residents used to eat rice cake therefore many people in the village helped in making it; actually they finished quickly making 7.2 litters of rice cakes. They flavored it with traditional seasonings and had a great lunch together. It reminded them of the old good days.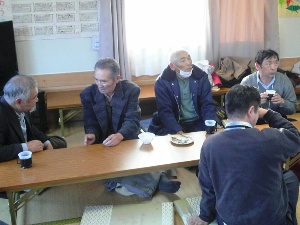 JBC held a tea party in the Izumisawa Temporary Housings Complex (about 30 families) that afternoon. At the same time, a part of the team visited individual homes in the Monzen (about 15 families), Yoneda (about 15 families), and Shimoyasuie Temporary Housings (about 8 families) to hand portable body warmers. It was such a short visit but a good fellowship time. This time JBC provided winter clothes from Yamagata Baptist Church. We appreciate it very much.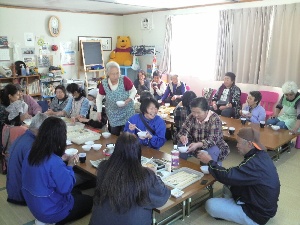 14 members visited them this time consisting of Same Church (3), Misawa Church (1), Komatsugaoka Mission Point (1), Calvary Church (1), Aomori Church (3), Hakodate-mihara Church (2), Muroran Church (2), Hachinohe Bible Church (1).
Next visit should be 12/7 Friday.