2012年 10月 15日
One and half years have passed since the disaster 311, but deep injury still remains in individuals. In such struggling a bunch of people dare to go forward in the affected areas.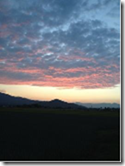 Dawn in Tohoku...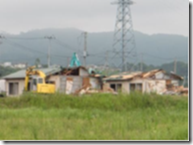 People recently started to sweep their own houses in Yamamoto-cho. They could not do that since Tsunami disaster.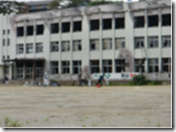 A boys of baseball team practiced in an elementary school in Ishinomaki which was closed on account of the disaster; you can find marks left by the fire on the building. The banner says "we shall overcome!"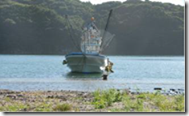 A fisherman ship in Oshika Peninsula. The government provides them a subsidy to buy new ships.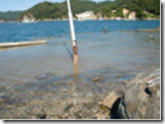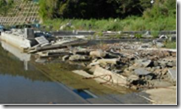 Flooded areas in Oshika Peninsula. The earthquake caused the land to sink, so that fishing ports are flooded at full tide. In order to restore fishing ports, they should first do levee raising.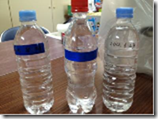 JBC office measures the radiation level of water, which Koriyama Church in Fukushima Prefecture sends monthly, by Becquerel Monitor.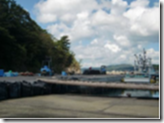 They need to raise levees up to the height of the bridge to avoid being flooded. Then they will be able to establish a processing plant for fish.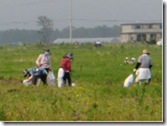 Many part-time workers clean up rubble left in field because of Tsunami in Watari-cho in Miyagi Prefecture.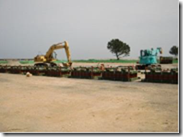 The government is establishing a new incinerator for rubble from the coast in Miyagi Prefecture.

They finally started to construct a new bank.

The message from kids and parents fellowship in Watari-cho Temporary Housings in Miyagi Prefecture. This is the thank you card in which they give thanksgiving to all that have supported them for one and half years.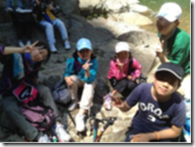 JBC held Evacuation Project from Radiation Contamination for Fukushima Kids on behalf of contributions by Baptist Women Union in Japan. Kids enjoyed a picnic in the Shirakami Mountains. Thank you for your donation.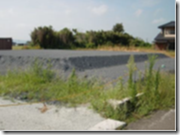 This is the mound for construction. After staying in temporary housings, they should go back to the place where a Tsunami may occur in future. Therefore they will build houses on the mound which is 1 meter higher than ground level.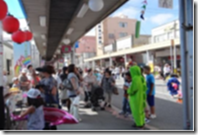 Festival in Ishinomaki City in Miygagi Prefecture.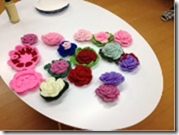 Pot scourers made by residents of Kozuchi's fourth Temporary Housing area.