2011年 08月 24日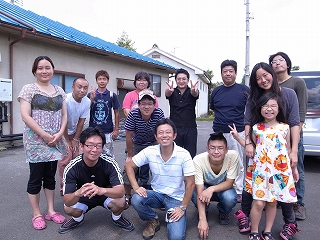 Tono City, of Iwate Prefecture, as depicted in the "Tales of Tono," is well known for being rich with nature, quiet and beautiful. But there are now many groups and individuals in this place. Because Tono is located in an inland area, the city stepped up soon after the disaster struck on March 11th, volunteering itself as a backup support base for the coastal areas. The JBC rented a former JA building from August, and opened up the Tono Volunteer Center. One of the first results was the gathering of a team of 11 volunteers, respondents to applications sent out across Japan as part of the JBC's Young Adult Training Program. For the first two days, the team did volunteer activities through "Magokoro Net." On the third day, the team distributed hot meals and set up a café at a shelter, organized mainly by Morioka Church.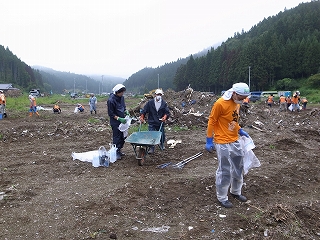 As they cleaned up debris in Otsuchi-Cho and Rikuzen Takata City, they found a Hello Kitty pen, and some clothes that had turned jet black in the sludge-smelling mud. One young person remarked, "this soil's full of blood," but I cannot help but think of the many lives behind this. At a shelter, an elderly woman was sharing the names of her deceased family members with a young person. We came to feel the weight of life – different from the mere numbers that we hear on the news.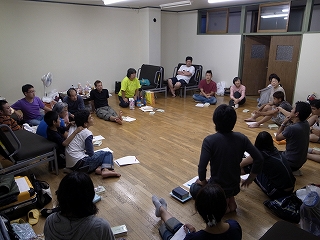 The young people's faces were truly changed after spending 5 days together in the disaster area. Those faces tell me that they sincerely desire answers to questions like "How do we best use the lives we have been given by God?" and "How do we serve?" Also, 9 people from Kyoto, Kitayama, and Urawa Churches, and 3 sent by the Fukuoka Area Association slept and ate and worked together with us. The director of this Volunteer Center, Vice President Chikayo Kaneko sent them out each morning with a reading from the Bible, and lead a sharing time each evening. We spent those 5 days with encouragement from the Bible; we were directed in our paths as Christians. And we were encouraged richly by witnessing the warm help and work of Reverends Masato and Ayako Osuga of Morioka Church. We would like to continue thinking with young adults about how churches live, and what kind of churches we should aim for as we continue working together for disaster relief. And I strongly expect that the kind of bonding born in Tohoku will become an underlying power in our churches throughout Japan.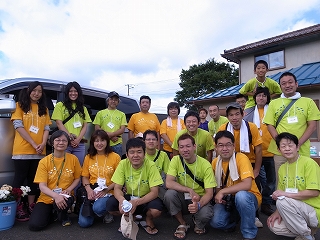 – Yasuaki Fukunaga, Sagami Chuo Church –