2011年 06月 05日
We distributed hot meals in two locations on the Oshika Peninsula, in Ishinomaki City.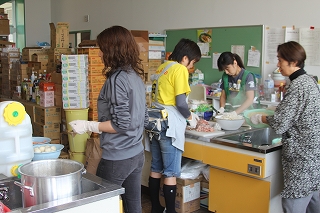 Public offices are having difficulty reaching out to this area and the water supply is still cut off here. The Volunteer Center of Ishinomaki City's Social Welfare Council has expressed their appreciation of the Japan Baptist Convention's continued efforts.
Today's meal included grilled fish, vegetable soup, seasoned daikon radish, and jello. The grilled fish, as always, was greatly appreciated.