2014年 10月 13日
| | |
| --- | --- |
| Bond of Prayer #27 August 20, 2014 | |
~Great East Japan Earthquake Charity Concert~ Akatsuka Baptist Church (…)
June 7th 2014, we invited flutist Atsuko Koga and cellist Georgiy Lomakov to perform for the Great East Japan Earthquake Charity Concert. Atsuko Koga and Georgiy Lomakov are musicians based in Germany. They contacted us to see if they could conduct a charity concert at our church after reading that we were collecting donations for the Great East Japan Earthquake. Although it was raining, close to 80 people attended the Great East Japan Concert. People of all ages from near and far came to the concert. Some, after hearing that the concert was to support East Japan, went to the trouble of asking permission from their hospital to come to the concert. Many had heard of the concert through our homepage, Facebook, and our newspaper advertisements. The wonderful sounds of the flute and cello moved our hearts. The intricacy of the music and the rich sounds enveloped us and seemed to carry us to a different world. The 90 minutes flew by. We were truly very grateful. Many people joined our call, "Don't forget 3.11!" Many joined with us to pray. We want to express our deepest gratitude to Atsuka Koga and Georgiy Lomakov. We hope that we will be able to hold events like this again. Though the work that our church does is small, we hope that we can serve the community in the best way we can. Akatsuka Church has voluntarily been taking part in the support of Great East Japanese Earthquake. Please share with us the work your church does. jbcsaigai@bapren.jp
~ Ai Ai Project 2014 ~ Ai Ai Project, along with the prayers of women through out Japan, has continued to support North East Japan in 2014. There are churches in the North East Japan that continue to support and stay along side those that are affected by the devastation. Those in the devastated areas live in pain, unsure of their future, fearful of the nuclear power plant accident and its radiation. Many are tired from the years they have spent in the temporary housings. We hope that through our connection with the churches in the area, we can continue to walk with the Lord, spreading our prayers and blessing the people we meet. Koriyama Kosmosu Dori Church has carried out visitations to Koriyama Midori Ga Oka Temporary Housing Estate once every month. Ai Ai Project also participated in the visitations in April and July, and hopes to go in October, December, and March. Ai Ai Project also continues to support the handcraft groups held through out the temporary housing estates in the devastated areas by sending snacks and craft material. Furthermore, last year we gave a donation to the support network for migrant women in Fukushima. What is more, now that we are more aware of the networks' activities and the prayers that are needed for the migrant women, we want to find how to show more solidarity. Requests by the Women's Committee, and prayer requests can be found on the Home page, and will be announced through the regional alliance.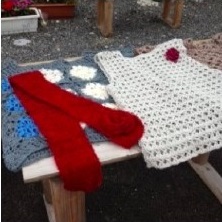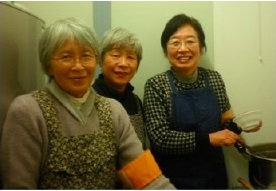 ~Local Support Committee Meeting Report~ The Local Support Committee Meeting was held in Sendai church on Friday, first of August. It was an open meeting, which allowed many non- committee members to join from different churches in North East Japan. The meeting held 17 participants. Each time we hold these meetings, we are encouraged by the people from surrounding churches who show interest in the work that we do. This Local Support Committee Meeting has been held almost once every month as a way to share about the aid work carried out for the victims of the earthquake and nuclear accident. It is also a time for participants of the meeting to think together, to learn from the Bible together, and to support each other. It is impossible to express how much the conversations during the committee meetings have encouraged us these past 3 years. I believe that this meeting also serves as a way for different aid workers to support each other. It is easy for only the actual "work" of the aid work to be noticed, but I was reminded that behind that "work" there is a lot of thought exchange, prayer, and communication that has continually taken place, which paves way for the aid work to take place. I thank God for his guidance. The Local Support Committee has produced a DVD, "Local Support Committee Activities DVD Vol.1", to introduce the different aid work that is being carried out. This DVD has been sent out to all churches throughout Japan. Please take a look at the DVD and please continue to support our work. We are greatly thankful for your prayers and support. Committee Head, Makoto Kanamaru
The Great East Japan Earthquake Aid Committee Team Report I joined the World Development Conference, hosted by the Baptist World Aid, one of the Great East Japan Aid Committee Team's greatest supporters. The conference was held on the 5th and 6th of July in Izmir Turkey, and I was able to represent the Aid Committee Team of the Japan Baptist Convention, and present our case study report. At this conference, Baptist individuals working for human rights and individuals working in devastated areas gathered from around the world to learn from each other. I spoke about the long-term aid carried out at the devastated areas of the great east Japanese earthquake. For long term aid, there is a need for 1) the concept of "mission" to come together with "aid", 2) the church not to do everything but to be the bridge that connects the local people to organizations and groups specialized in the field of work that is needed for the people, and 3) the church to be a place of comfort for those who were not able to receive the aid that the organizations and groups provide. These three points were based on what was discussed during the "Theology Forum 2, Post Great East Japan Earthquake and Nuclear Accident Missions". I used these three points as the foundation of how the church should support the areas affected by the nuclear disaster on a long term scale. I also spoke of how the church should be critical of the nuclear power administration. Furthermore, as presented in the World Church Conference in July this year, I spoke of how we hoped that the Baptist World Alliance would declare an anti-nuclear stance. I think it was significant that there was a presentation on Japan's exportation of nuclear power and weapons to Turkey. What is more, I was able to gain the support from many participants. Lastly, during the evening prayer meeting, we were able to share our prayers with Baptists from all over the world to remember the Great Each Japan Earthquake, and not to forget about it. To read the original script: Please check the Great East Japan Earth Quake Blog on the Convention Homepage
Fundraising Report
Target for 2014 Fundraising: 14mill Yen Current amount donnated (July 31, 2014): 4mill330thousand Yen
We have received donations from the following 72 people /organizations: Isahaya Ch, Ito Ch, Koga Ch, Tsukushino Futsukaichi Ch, Yokodai Ch, Omiya Ch, Kasumigaoka Ch, Mojiko Ch, Kobe Ikawa Ch, Tokyo Kita Ch, Fukuoka Josei Ch, Kochi Isezaki Ch, Fujisawa Ch, Kurigasawa Ch, Nara Ch, Higashi Osaka Ch, Seinan Gakuin Junior/High Sch, Chofu Ch, Goro and Fumiko Amano, Yuko Kubo, Takamatsu Tokiwacho Ch, Nakano Ch, Saga Ch, Kagoshima Ch, Koga Ch, Fujimino Ch, Nakano Ch, Keisei Ch, Tokyo Kita Ch, Seinan Gakuin, Akatsuka Ch, Chofu Ch, Norio Samejima, Yahata Ch, Kagoshima Ch, Koga Ch, Ainoura Hikari Ch, Hakodate Mihara Ch, Omura Kogashima Ch, Hirao Ch, National Partners of Pastors Group, Megumi Ch, Kansai Reimei Ch, Osaka Block Women's Committee, Chofu Church, Yuko Kubo, Mitaka Ch, Atsuko Koga, Georgiy Lomakov, Hitachi Ch, Mejiro Gaoka Ch, Meinohama Ch, Takayasu Tadasa, Masako Kamei, Koga Ch, Shuhei Nishin – Nishino Guitar School, Takasuka Ch, Kagoshima Ch, Goro and Fumiko Amano, Foundation for Cooperative Community Creation, Hiroshima Nishi Ch, Seinan Gakuin University Choir, Nakano Ch, Ichikawa Yahata Ch, Nakano Ch, Tokyo Region Alliance One Day Kohitsuji Group, Chofu Ch, Marukame Jotocho Ch, OS Company, Nogata Ch, Ainoura Hikari Ch, Koga Ch, Otaru Ch, Kagoshima Ch.