2014年 07月 28日
A People who Serve the Land~
Extract from Seinan Gakuin Daigaku Theology Chapel
Ichiro Sudo Professor of Theology
On the preface that in the Bible, all things are said to be in relation to God and that nothing is created without God, what sort of relationship did Jesus envision for man, nature, and creation? We can look into Mathew 10:29b and Luke 12:6b for more insight. In the passage titled "Do Not Worry", we see Jesus speaking the following words about the birds in the air.
Matt 10:29b "Yet not one of them will fall to the ground outside your Father's care."
Luke 12:6b "Yet not one of them is forgotten by God?"
These words depict God's love that is also poured out to the creatures of the world. The passage in Matthew compared to that of Luke is far more difficult to understand, and it is the passage in Matthew that we find the original words of Jesus. The passage says that God is there, even for the one small bird as it falls to the ground. To man, a small bird is worthless and cheap, but to God, there is no such thing as a worthless creation. God stays beside even the smallest creatures until its death.
If this translation is true, then the following verses in Matt 10:31b and Luke 12:7b "you are worth more than many sparrows" do not follow the same logic. This is often times understood to mean that if something is true for the small bird, then it is more so for the greater man. This implies that man is greater than the little bird. This places man above creation. A similar thought is expressed in Matthew 6:26 and Luke 12:24 "Are you not much more valuable than they?" Even in this passage, with its title "Do Not Worry", we see how a sparrow, that is worthless in man's eyes, is subject to God's love. This shows how the theory that man is greater than God's other creations does not make sense. This shows how the passages added a human centric view to the words that Jesus spoke, altering the message that Jesus initially gave. If this is true, then Franceso, who was said to have preached to birds, was correct in understanding that God's love is provided for both man and other creation, equally.
We, as people who read the words of creation from the Bible should choose not to be the "rulers of the land" but as "servants of the land." We should take the words of Jesus and understand that God's love is given out to all of creation. And it is in this understanding, that we should take part in tackling the issue of nuclear power.
The Radiation Levels of Churches, and Information about "Decontamination"
The Great East Japan Earthquake Aid Committee Team on the Nuclear Power Issues has continued to measure the radiation levels of churches and its facilities that are believed to have higher radiation levels after the nuclear power disaster. It has also worked to support the fees that are required in decontamination, and also monitor the change in radiation after decontamination. The financial support we provide go up to 500,000 yen per building. So far we have aided the decontamination of 7 churches. It has been over 3 years since the disaster, but there are still churches that have not applied for this program, and so we intend to call out to those churches that we have yet not reached. If there are any churches that are in need of this aid, please contact the Great East Japan Earthquake Aid Committee Team.
*The difficulty in the decontamination process is that it is impossible to stop the contamination due to radiation. The decontamination is carried out by decontamination companies, that often burry or cover with concrete, the contaminated material.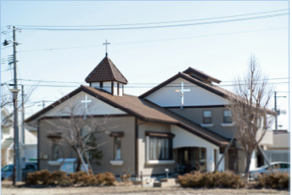 Koriyama Kosumosu Dori Christ Church, that is continuing decontamination
The Great East Japan Earthquake Aid Committee Team Report
Thanks to your support we have been able to carry out the following projects.
1. Donations for disaster struck areas.
Project Fees Year 2013 Total
General Donations(Domestic)+(International)19,203,606
Specified Donations (international) 3,252,795
Withdrawn from Reserve Funds 9,013,568
Total 31,469,969
Funds Carried Over from Previous Year 9,086,795
Disaster Aid Funds 40,556,764
2. Aid Work for Stricken Areas
Projects (items of expenditure)
1) Support for churches in stricken areas
Fukushima Asahimachi Church child education support (2,485,494),
Special health support for pastors in stricken areas (330,000)
Total 2,815,494 (A)
2) Support for church projects in stricken areas
Temporary housing aid provided by churches in stricken areas (4,408,100),
Maintenance of vehicle specified to aid work (2,306,205)
Total 6,714,305 (B)
3. Support for stricken areas by Tono VC
Electricity, heating, maintenance for Tono VC (2,428,035),
Volunteer travel for non North East Japan churches (1,222,884),
Activity fees for local aid worker (5,328,448), miscellaneous (16,904).
Total 8,996,271 (C)
4. Projects dealing with the nuclear power issues
Fukushima Asahimachi & Koriyama Kosumosu Dori Christ Church children
relief project (1,936,155),
Health Checkups due to radiation (152,406),
Radiation measuring and decontamination (1,339,713),
Housing support for evacuees from radiation (500,000),
Expenses for conference meetings (681,691)
Total 4,609,965 (D)
5. East Japan Team
International correspondence (237,429),
Expenses to hold Theology Forum2 (1,628,913),
Cooperation with other organizations (235,700),
Officer Personnel expenses (2,554,177),
Expenses for conference meetings (678,026)
Total 5,334,245 (E)
6. Office Correspondence Fees 407,810 (F)
Year 2013 Expenditure (A)+(B)+(C)+(D)+(E)+(F) 28,878,090
Funds carried over to 2014 11,678,674
Special Notice
•Closing of Tono Volunteer Center: 31 March 2014
•Finishing of mission work (Chikayo Kaneko): 31 March 2014
•2014 media work for Great East Japan Earthquake Aid
Tohoku News Letter published every odd month
Bond of Prayer published every even month