2014年 07月 28日
| | |
| --- | --- |
| Local Aid Committee News Letter #12 | |
To all the churches through out Japan, thank you for your daily support through prayers and offerings. It is through your continued support in prayer that we have been able to carry out our work these 3 years. We hope to continue our work through out this year, serving those that continue to live in disaster, radiation, and hardship. Please continue to support us throughout 2014. This issue will look at the work carried out through Koriyama Kosmosu Dori Church, and its prayer requests.
Koriyama Kosmosu Dori Church's Aid Work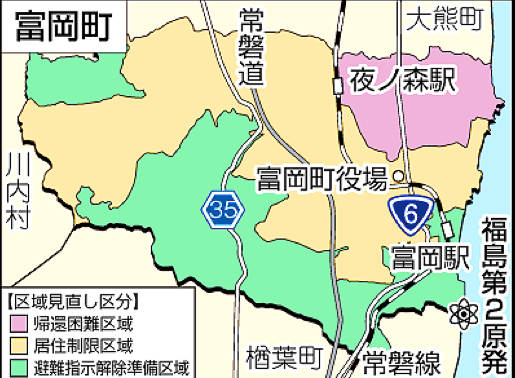 Though Tomioka City is in the same evacuation sector, it has 3 different evacuation areas.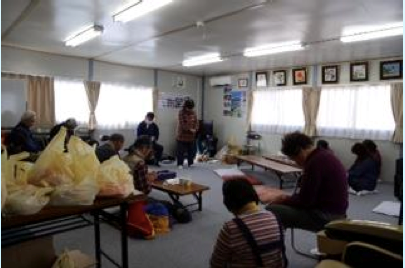 The time of silence held for March 11 at the temporary housing meeting room
Koriyama Midori-gaoka temporary housing, situated at the far east of the city, is in an area that is most difficult to reach when compared to the two other temporary housing estates in the city. Those that evacuated from the nuclear power accident live in these temporary houses. There are still approximately 100 households that live in the housings. Many of these people are elderly. Koriyama Kosmosu Dori Church has, through the support of churches throughout Japan, carried out visitations to Midori-gaoka temporary housing once a month, since August 2011. The time we hold most dear is the gathering we have at the temporary housing. Many of the residents tell us that they look forward to the time we have each month with the familiar members.
On March 11th 2014, just 3 years after the Great East Japan earthquake and nuclear disaster, we visited the temporary housing estate. Here we had a massage corner, a Japanese candy store corner, a music exercise corner, a "snacks and tea" corner, with snacks made by the church members, and a karaoke corner. About 40people gathered, and we all spent time together, as we always do. We also handed out tulips each filled with the prayer that one day a flower will bloom in the lives of those that have no choice but to live in the temporary houses due to the nuclear disaster, uncertain of when they can return home. The residents living in the Midori-gaoka temporary housings are evacuees of Tomioka City, who lived within 5-10km from the Fukushima Daiichi nuclear power plant. All we know at this point, is that they are unable to return to Tomioka City until 2017.
Not only did they suffer directly from the earthquake and tsunami, but their homes were made inhabitable by the nuclear disaster, forcing them to leave their homes. Despite our continued visitations, it is perhaps impossible for us to understand the suffering that the evacuees at Midori-gaoka go through. However, we believe that God can work past our human incapability. This is why we are able to continue spending time with the many who have suffered here. We now have pastor Chikayo Kaneko as our church pastor. She has continued to support us. We plan to continue our once a month visitations through out this year. Please continue to pray for us.
(Koriyama Kosumosu Dori Christ Church, Haruka Saito)
Prayer Requests
1)That the nuclear accident will be solved as soon as possible, and that the radiation levels throughout Fukushima prefecture will decrease.
2)That God will provide wisdom for the removal of the fuel rods and the contaminated water, and the operation will proceed with no problems.
3)For the protection of those that work to solve the nuclear accident.
4)That there will be no further increase in health issues.
Kawauchi Town, Declares to Return Home
We have also been given the opportunity to meet some of the people from Kawauchi town. After the Great East Japan Earthquake and the proceeding disaster of the nuclear power plant, the whole population of Kawauchi town was forced to evacuate. Many had to evacuate during June and August to state facilities inside of Koriyama city. At the end of January of 2012, the people of Kawauchi town declared that they would return to their homes, and in April the Kawauchi primary and junior high schools were returned. 535 returned full time, 920 returned part time (4 times a week for work), 1600 have rented homes outside of the town, and 680 live in temporary housing. Because Kawauchi town was the first to return to their homes, their compensation for emotional damage (100,000yen/month) was cut off in August 2012. They did receive a 200,000yen financial support and free temporary housing until March 2013, but all forms of compensation were cut off from March 2013. Many who live in temporary housing estates outside of their hometown are the elderly, unemployed, and disabled, with very little income. What is more, many of these people have been separated from their families, and have no way to be reunited. There are many elderly people living in temporary housing estates that are in need of support, but slip between the cracks, unable to attain the government support that they are entitled to.(Chikayo Kaneko)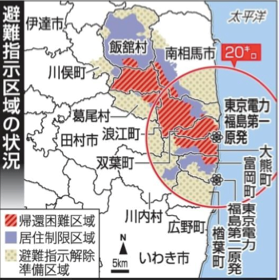 The Start of Refresh Time
Since the nuclear power disaster, the children of Koriyama city have not been able to have fun outside, or play around in the dirt. Having to live in situations such as these for 3 years has affected the livelihoods of the children living in Koriyama. It has lead to the decrease in stamina and the weakening of muscles in the children. In order to allow the children to be active in an environment that has lower radiation levels, and to help decrease the stress that they often have to carry, we have been running a health project called Refresh Time. The pastor's room is fitted with exercise machines so that it can become a gym, so that people can have fun and exercise there. (Chikayo Kaneko)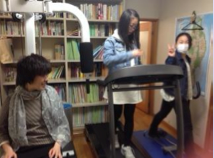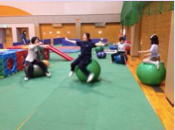 Post-Disaster
I am Ryota Osuga from Koriyama Kosumosu Dori Christ Church in Koriyama prefecture. I will be in fourth grade in April. After the disaster, I have transferred schools to Yamanouchi in Nagano prefecture. After that, my little sister was born, and so I transferred to a primary school in Nakano city. It was sad to have to say goodbye many times to my friends. I've returned to my church in Koriyama this summer. I was happy to see my friends at church again. I will be returning to Nagano in April again. I am sad that I have to be far away from my dad, but I will do my best with my mother and sister.
(A message that was read during the National Kohitsuji Camp. We received permission to include this in our newsletter.
Local Aid Committee News Letter, Published in February 
25, 2014
Japanese Baptist Convention Great East Japan Earthquake Local Aid Committee
President Masato Osuga