2014年 05月 22日
26th March 2014 Issue #25
Great East Japan Earthquake Support Team Newsletter
A Bond of Prayer
Prayer Requests
1. That the physical and emotional health of those who are still living as evacuees will be protected.
2. That the removal of the nuclear fuel rods, and the disposal of contaminated water will be carried out smoothly.
Recent News
March 11, 2014, Koriyama Cosmos Path Christ Church was able to have a tea party at the Midorigaoka 7-chome temporary housing complex. We have been visiting Midorigaoka since the August of 2011. In this housing complex there are 110 households, consisting of 180 people. They are evacuees from Tomioka, a city that is within the 5-10 km radius of the Fukushima Daiichi Nuclear Power Plant. We heard that one of the members that had always joined our monthly tea party had died a lonely death, just a few days before. Many of her neighbors carried the guilt and responsibility of not having noticed her death. There were also those that worried about perhaps having a similar fate. Many spoke of how, even after 3 years, nothing had changed, and how they were unsure of if they could ever return. They didn't know what awaited them in the future. Many confessed of their emotional and physical fatigue and of the anger they held, that they could not resolve.
At 2:46 pm we had a moment of silence. Afterwards I spoke a few words, but I found myself unable to hold my tears in and unable to find the words to speak. In the evening we had a gathering in remembrance of the disaster. This year, the head of the women's convention Aiai Project, Jyunko Hirukawa and a 4 person working team from Mejirogaoka church came to help us set up from the morning. I was reminded that the support work we have carried out for the past 3 years has not been a sole effort, but one that has been supported by churches around the nation through prayer, donations, and aid.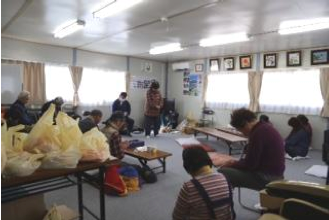 March 11, Midorigaoka Temporary Housing Complex Tea Pearty
2. Visit by Cooperative Baptist Fellowship (CBF)
We have continued to receive generous amounts of donations from CBF. To determine if further aid is needed, 2 individuals from CBF visited Otsuchichyo Koriyama City during March 20-21. During the 20th to the 21st, Tono, Kamaishi, Otsuchi were covered with heavy snowfall. In some areas the snow was knee high. It was the worst snow we had seen in 25 years. However even within this stormy weather, the people of Kozuchi Fourth Temporary Housing welcomed us with a cooked lunch. Ms. N, who always cooks the lunch for us, said with tears in her eyes, "This year, March 11 was really hard for me. I could keep myself from crying. Maybe it was the toughest year yet." These words by Ms. N, who usually always has a smile, and always makes others laugh, depicts the reality that these people live in. The past 3 years, it has been one hardship after another. For 3 years our hearts have been strained.
"When will you visit us next? We will be waiting for you…" The people in the temporary housing waved us goodbye all the way until the car was out of sight. This reminded me of "Macedonia's cry".
"Lord, please allow this aid to continue". "Please use our convention". Leaving the drive, I could not help but cry. It reminded me that even now, people are in need of aid. It reminded me of the challenge still ahead of us.
Great East Japan Earthquake Aid Committee Team on the Nuclear Power Plant Issues
Column 16 
"Those who Tend the Land" 
- October 28 2013 Message Summary from Theology Studies -
Seinan Gakuin University Professor of Theology Studies
Ichiro Sudo
Recently there is not one day when we go without hearing some news about the Fukushima Daiichi Nuclear Power Plant and its contaminated water. During the IOC session, when Tokyo was chosen as the 2020 Olympic host, Prime minister Abe stated, "The situation is under control". However the situation is far from being under control. There is still contaminated water leaking into the ground water and into the ocean. This is, along with the Chernobyl event, the worst environmental disaster in history. How are we, as Christians supposed to face these issues?
1967, Lynn White Jr. wrote an article in "Science" magazine called "The Historical Roots of Our Ecological Crisis". He argues that at the root of the environmentally destructive scientific revolution is Christianity and it's anthropocentric understanding of nature. He stated that way out of the ecological crisis in not the evolution of science and technology. We must condemn the concept that "no item in the physical creation [has] any purpose save to serve man's purposes" and "rethink and refeel our nature and destiny". White brought about a great question for Christian Theologists. However he is a specialist in the history of Medieval Europe's agricultural technology, and his interpretation of the Bible may be limited. Therefore it is necessary to critically reconsider his thesis.
Genesis 1:28, which White uses as the basis of his argument, does definitely say that man subdue the earth. However In Genesis 2:5 and 15, is tells man to "work" and "take care" of the earth.
Man Subdues Earth
Man Takes care of Earth
In the background of Genesis 1:26-28 is the imperialist ideology that said the king was god, and that he ruled over all the people. However, democracy states that all man is god and this has made man anthropocentric. To this, the Bible talks of how Adam was made out of the earth, and that he is to protect the land. It tells us that God created man and nature, and that we are, together, supposed to face God. The Bible gives us these seemingly opposite messages about how we are to live in the world. It is our choice to decide which to follow.
2013 Fundraising Target Amount (General Donations): 20,000000Yen

15,110,000yen (2,250,000yen from over seas)
Another 4,890,000Yen needed

*We have also received 3,250,000 Yen as specified donations, which has not been included in the total above.

Please continue to donate for the aid work in the devastated areas.
00140-9-180881
Religious Institution Japan Baptist Convention General Affairs Division