2014年 05月 21日
| | |
| --- | --- |
| Local Aid Committee News Letter #11 | |
2011.3.11 Great East Japan Earthquake
Local Aid Committee News Letter From Tohoku
25th Febraury 2014 Issue #11
It is now 3 years from the Great East Japan Earthquake. In Tohoku, there are those that desperately fight for tomorrow, and there are those that see no purpose in life. We ask for your continued prayer. For issue 11, we will be reporting about the aid work in Yoshioka Ministry Center and Nankodai Church.
Yoshioka Ministry Center
Aid After Devastation
Yoshioka Ministry Center's Hikari No Sono Kindergarten (Garden of light) had been running for 54 years. The kindergarten was forced to close indefinitely after the March 11th Great East Japan Earthquake in 2011. Pastor Naoki Noguchi has been appointed to rebuild the Yoshioka church just 8 months before the Great East Japan Earthquake occurred. Amazingly the church had not been damaged too greatly, and God used this.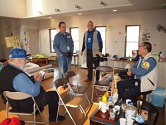 Volunteer Team from Texas
There was an email form the Texas Baptist that was initially supposed to be sent to the convention's ministry coordinator, missionary Naoya Noguchi, but it ended up being sent to Pastor Noguchi. The email read, "Please give us any where to stay." To this, Pastor Noguchi replied, "You are always welcome." At that time, the Baptist convention was acting as the coordinator for any visitors or volunteers that wanted to come to the devastated areas. However this email, which was meant for missionary Tetsuya Noguchi, was sent to the Pastor Naoki Noguchi. However this mistake allowed the American volunteer team to directly find a place to stay. This is how the American Volunteers ended up staying at Yoshioka Ministry Center. This is how we were able to build a strong bond with the mission group of the Southern Baptist Convention in working for the devastated areas of Tohoku.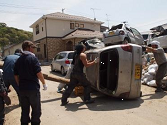 Debris Removal
The widening of our Cooperation
For some time, we were unable to get in touch with a friend of Pastor Noguchi, who was working as a pastor in one of Ishinomaki's junior high schools. After searching for her with a dozen or so people, we were able to find her at the Monkyou Junior High Sports Gym shelter. They had known each other from 25 years ago in America, where they had traveled together while taking part in a project that worked to allow people to get to know Christianity by home staying with Christian families. As soon as they had found her name, they raced over to where she was and were reunited to her. The Kadonowaki Junior High where they reunited over-looked a land that was all rubble and smoke after the Tsunami and earthquake. This became the start of our Christian volunteer work that worked passed all religious and non-religious borders.
Our Volunteers
We are now starting to set up as an institution with Pastor Noguchi as the receptionist, Yamazaki Hiroka as the coordinator, and many local leaders such as Noguchi Nao (grand son of Pastor Noguchi), who go out to the volunteer locations. In the August of our first year, the average number of people staying at Yoshioka Ministry Center were "20.1" people per night. Within these three years, approximately 3000 ~ 4000 volunteers have stayed at Yoshioka Ministry Center.
Visitations at temporary housing estates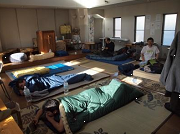 Sleeping area for volunteers
Within the Bond of Prayer
Our main field is in Ishinomaki. Temporary housing started being constructed in September of 2011, but there are still those who must live in evacuation centers. Even if you are lucky enough to enter temporary housing, you cannot decide where you will be placed. There are many who have to move far away in order to enter temporary housing. Within this reality, what is it that Yoshioka Ministry Center can do? To have long lasting fellowship. To share the warmth of a helping hand. To introduce Jesus Christ even though we may not have any manpower or financial power. We hope to continue doing our best in providing heart felt aid.
(Yoshioka Ministry Center Naoki Noguchi)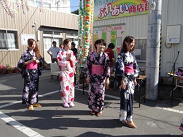 University Students dance Japanese dance at the temporary shopping area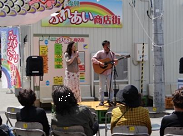 Music performace at the temporary shopping area

Thank you for all the aid all over Japan
Aid at Nankodai Church
It has now been 3 years since the Great East Japan Earthquake. Since April 2012 the Miyagi team has been working with 4 churches and one ministry center. We have been building relations with the people of Oshika Peninsula. We visit once a month and hand out fresh vegetables and have tea with the people living in the area. Nankodai church has been taking part in these visitations. In Ayukawa district, one of the areas that we visit, there is a former student of mine that sells salmon and seaweed at a store in the temporary housing estate. I try to visit whenever I can. For some areas, it is said that it will take another 5 years for public housing to be available. This forces us to rethink about what aid is, and how to build relationships over a long span of time. I hope to continue building a relationship with the fisher community and my former student and his family. I hope to see them living in a normal home once more.
Though we cannot "see" radiation, it is important to be aware of radiation. Although this year we have yet to hold any events, Nankodai church has been inviting specialists, professors, and those involved in nuclear disaster relief. With these guests as speakers, we have opened the doors of the church to the community to help inform the local public about radiation. Through these events, we have learnt about internal radiation exposure. We learnt about how radiation may end up affecting us, and how we may, in the future, start seeing symptoms of radiation. This showed us to the reality that many face. What we were especially made aware of was the fact that many of our children may have to carry the burden of being a Hibakusha. The fear of radiation hit home when we were told of the reality that one day, we would start to see scientific proof of the effects that radiation has on our children's bodies. We hope to continue raising awareness about the effects of radiation to live along side those that must live in the aftermath of the Fukushima nuclear accident.
Furthermore, we have been sending out our pastor to take part in the "Sendai Chritsitan Convention Aid Nerwork. Tohoku Help". We also send out our pastry to work with the "consultation window" that support funeral proceedings. We, along with the Baptist Convention, have also sent our pastor out to Baptist Conferences in places such as Myanmar and Malaysia to inform people about the tsunami and the devastation caused by radiation.
We hope to continue working in this field as a church that is placed in the devastated areas, with the strength given to us through the prayers of churches all around Japan. We thank you for your continual prayer.
(Nankodai Church Suzuya Teruaki)
September 2012, APBF Conference on "Devastation and the Church" in Malaysia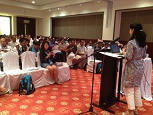 3rd airing of "Loving Through Internal Radiation Exposure"
Local Aid Committee News Letter

Published in February 
25, 2014
Japanese Baptist Convention Great East Japan Earthquake Local Aid Committee
President Masato Osuga