2013年 12月 16日
Prayer Requests
1. That the removal of the fuel rods from the Fukushima Daiichi Nuclear Power Plant will be carried out with no troubles
2. That the problem of dealing with the contaminated water will be solved
3. That the health of the children in Fukushima will be protected
4. That the health of the people living in temporary housing will protected
1.Tono Volunteer Center
Since August we have had students from Seinan Gakuin University volunteering twice a month in groups of 13. In August we also had volunteers from Kyoto Church who helped in weeding and in running the tea cafes. Furthermore in October we had two ladies from Meinohama Church and a group of theology students and teachers from Thailand who were lead by Ryuko Hidaka, our former missionary to Thailand(currently a pastor as Hiraoka Joyful Chapel). They seemed surprised at how cold it was in Tono. The volunteer work was carried out with the residents from Otuchichou and Kozuchi temporary housing. Because of the language barrier, we were initially slightly worried about how things would turn out, but there was no need. We were able to hear the local residents calling out "Khaawp khoon kah"(thank you) and "Sawatdeekah" (hello). We were able to see the smiles of the volunteers and the residents. The group from Thailand were taught how to count in Japanese by the residents of Kozuchi. The group from Thailand were able to chant the numbers and take part in stretching exercises together with the local residents. I was encouraged to see that with the strength of smiles and a willingness to help, people can communicate despite language barriers. When it was time for the Thailand group to leave, the residents of the temporary housings sent them off shouting "Khaawp khoon kah" and waving their hands goodbye. I could not help but shed a few tears. After seeing the hard work of the theology students from Thailand and seeing them head off to Amagi to join the Japan Baptist Women's Union Assembly, I truly felt that though we have different nationalities, we are all one in God's family. I was also filled with thanks that once they go back to Thailand, they will be telling the people at home about the current circumstances of the disaster.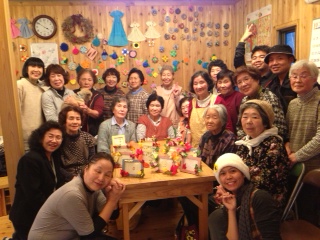 Seminary Students from Thailand with church members from Meinohama Church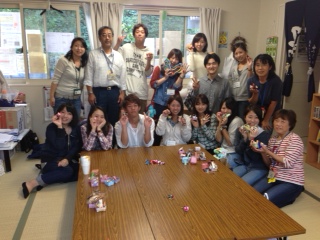 Volunteers from Seinan Gakuin University
During the 59th Regular General Meeting held in Amagi Sansou from the 13th ~15th of November we sold the hand made crafts made by the residents of Otuchichou and Kozuchi area, and the residents of Nodamura temporary housing. Thank you for supporting us in this. The wool and cloth that have been sent from all over Japan has been a great support both materially and emotionally.
It is being said that after the decision to hold the Tokyo Olympics, the prices of cement and metals have gone up. Also, many carpenters have left for the constructions for the Olympics and it is becoming difficult to find willing contractors. Furthermore, the aid from Otuchichou Office is to size down in 2014. This brings about problems such as having to find someone who will patrol for the people in the temporary housings.
From the 19th of November we will have our last group of visitation volunteers from Seinan Gakuin University. Tono is now winter and we have already had some snowy days. We ask for continued prayer. The aid work for Tono will be taking a new shape in 2014, and will be done once a month. The details of this will be informed at a later date.
Volunteers from Kyoto Church
2. Fukushima Daiichi Power Plant
On the 18th of November, the removal of nuclear fuel from the Unit 4 Pool is to begin. In this pool there are 3 damaged fuel rods, and along with this there are 70 damaged rods in the Unit 1 Pool, 3 in Unit 4, 3 in Unit 2, and 4 in Unit 3, making a total of 80 damaged fuel rods. TEPCO have said that they are considering methods such as manufacturing new transport vessel for these removed rods. It is said that to remove all the fuel rods, it will take at minimum 10years, so please continue to pray that some how all of these rods will be removed safely. The problem of the contaminated water, and the challenge of decontaminating a wide expanse of land still remain. In Fukushima, even 2 years and 7months after the earthquake people are unable to hang out their washing or their futons outside. Even small problems such as these can build up to great stress. Please pray for the health of the people living in Fukushima and also that the radiation level will decrease so that people can face a day when they can live without worry.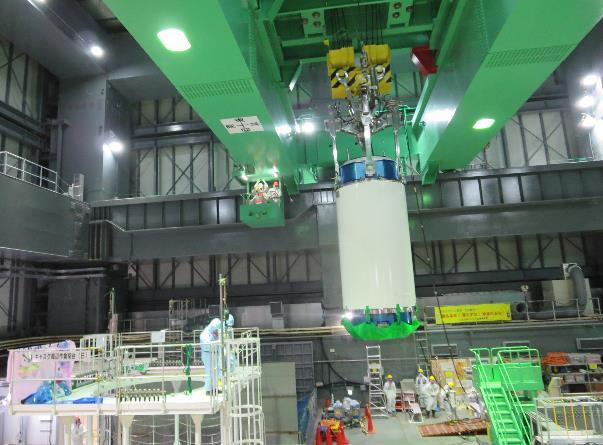 Removal of the fuel rods
Field Administrator Chikayo Kaneko
Great East Japan Earthquake Aid Committee Team on the Nuclear Power Plant Issues
Column 14 "The Removal of Spent Nuclear Fuel from Unit 4"
The TEPCO Fukushima Daiichi Nuclear Power Plant accident is an extremely serious issue. The building of the Unit 4 spent fuel storage pool was greatly damaged due to its explosion. The pool is placed approx. 30 meters above ground and there is a fear that this could collapse if there is a big earthquake. It was reported that the removal of the 1533 bodies of fuel could start from as early as the 8th of November, but this process itself is fraught with danger. (The actual process started on the 18th of November.) Within these 1544 bodies of fuel, there are 1331 bodies that contain spent fuel and 202 that have not been spent. The toxicity of these 202 rods are is extremely high. Harvey Wasserman, a famous anti-nuclear activist stated that the fuel rods (over 400tons) found in the unit 4 pool has a radio activity that is 15,000 times higher than that of Hiroshima.
TEPCO are planning to place a crane at a height of 5 stories. This crane is to place a metal container weighing up to 100 tons into the pool to collect 22 bodies of fuel. This is then lowered to the ground where it will be transported to another pool where it will be stored. Because of the explosion, it is not clearly known what state these bodies of fuels are in. Furthermore, if the containers used to carry the fuel were to be damaged during transportation, the spent fuels are in danger of being exposed to the open air. This would lead to further contamination. Let us keep our eyes on this process and pray that there will be no further damage. Also, let us keep in mind and pray for the works who must work under unknown circumstances.
Team on the Nuclear Power Plant Issues
Requests Concerning the Removal of the Fuel Rods from TEPCO Fukushima Daiichi Nuclear Plant Unit 4
From November 18th the operation of removing the fuel rods has started. This is an unprecedented operation and there are fears to how safe this operation actually is. We have received emails of prayer from Baptist World Aid, and there is much attention being put on this operation. We pray from our hearts that there will be no more accidents. It is said that if there is an accident, there will have to be an evacuation of the surrounding 250kilometers, which would include the evacuation of the people in Tokyo. In the churches in Fukushima, there is constant planning for smooth evacuation. This sort of awareness is needed not only in Fukushima but for further surrounding areas as well.
If evacuation becomes a necessity we call on churches and ministry centers to ready to accept those who have had to evacuate. Through this it will be possible for people that have to evacuate from their churches and ministry centers to first evacuate into another church or ministry center. This is one important way that churches can take part in cooperative evangelism. We continue to pray to the God of Peace.
Team on the Nuclear Power Plant Issues
Michio Hamano
9,450,000 yen (2,040,000 yen from overseas)
Another 10,055,000 yen needed
2013 Fundraising Target Amount (General Donations): 20,000,000 yen

*We have also received 3,250,000 yen in designated donations, which is not included in the total above.
Where the Donations Go
•Support for churches in the disaster areas (3,000,000 yen)
Support for the education of children in Fukushima
Support for local pastors involved in local aid work
•Support for church projects in the disaster areas (10,840,000 yen)
Providing maintenance costs for vehicles used in local aid work
Providing financial support for the relief work carried out by churches in disaster areas
•Support for the Tono Volunteer Center (9,070,000 yen)
Support for the Tono Volunteer Center projects
Maintenance of the Volunteer Center
•Projects related to nuclear power plant issues (6,000,000 yen)
Support for recreational projects for radiation-exposed children
Support for the relocation of residents to lower radiation areas
Support for decontamination
•Committee functions (4,500,000 yen)
Funds for holding Theological Forums
Costs of communication with other international organizations
Management fees for the East Japan Committee
•OtherFunds needed for "Bonds of Prayer," leaflets, reports, blogs, etc.
Please continue to donate to relief work in the disaster areas.
00140-9-180881