2012年 10月 02日
| | |
| --- | --- |
| Report of Summer Relief Activity | |
Affected Area Support News in summer 2012 volume 1.
This is the report of relief works and activities in summer 2012. Many volunteers from domestic and international regions visited to affected areas in Tohoku to support people suffering from disaster in 3.11.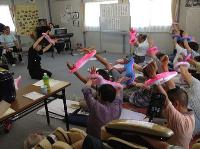 People did "3B Exercise" in Midorigaoka Temporary
Housings in Koriyama, Fukushima Prefecture. It was for relaxation
and a refreshing time.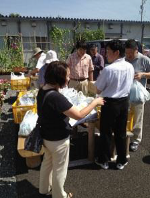 JBC handed vegetables to affected people in Midorigaoka Temporary Housings in Koriyama, Fukushima.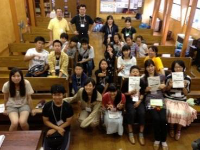 Hokkaido Baptist Association's Youth team visited to
Nodamura Temporary Housings in Iwate Prefecture to do a Summer Camp.
The young people made snow cones / shaved ice for the children in temporary housing.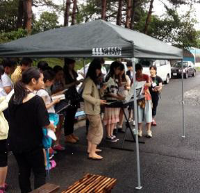 The youth had a great joyful time playing
instruments with the kids.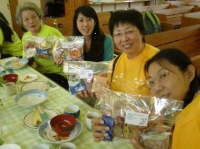 The Baptist Women's Union visited and brought famous
sweets into the temporary housing areas to comfort the residents.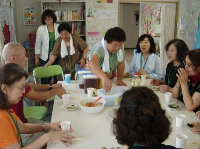 In Watari-Miyamae Temporary Housings in Miyagi Prefecture, the residents welcomed and served lunch to the volunteers! It happens sometimes. How great such a warm fellowship is!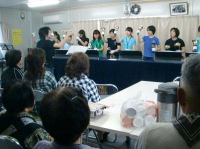 Hand-bell Choir of Yokodai Baptist Church held a concert in Watari-Miyamae Temporary Housings.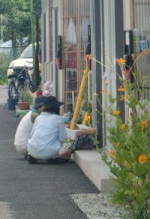 Volunteers visited residents who were not able to come to the assembly hall in Temporary Housings. They try to keep in touch with the people.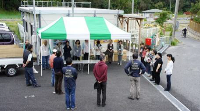 JBC has support work in Oshika peninsula in Miyagi Prefecture monthly. 5 Baptist churches in Sendai area, Miyagi cooperate to work for affected people there.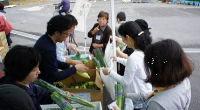 They provided vegetables for 144 families. They continue supporting the residents, both in Temporary Housings and in their own homes.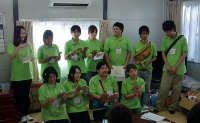 Students volunteers of Seinan-gakuin University (Baptist school) sang a song to encourage people.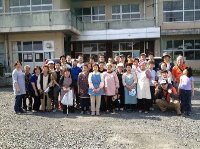 JBC volunteer team sometimes affiliates with other volunteer groups in Ando area.
Let us take a picture together!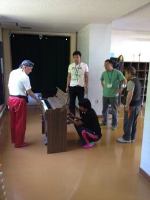 A resident repaired an old organ for the Baptist church,
which was in Ando elementary school.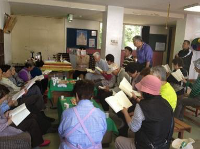 At that time, we all sang many songs together with the organ.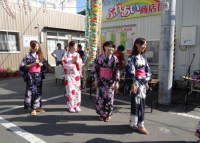 Traditional dance in traditional clothes by Fukuoka-jogakuin University (Christian school) nursing school students in Ishinomaki, Miyagi Prefecture.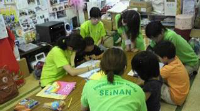 Both Seinan-gakuin University and Tokyo Woman's Christian University (Christian school) students supported children to learn.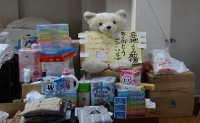 A bunch of relief materials from JBC churches at
Yoshioka Baptist Mission Point, Miyagi Prefecture.
Volunteers are providing them to people. "Thanks Bear" says "thank you for your relief materials."