2012年 07月 31日
| | |
| --- | --- |
| The 12th Visit to Nodamura Temporary Housings | |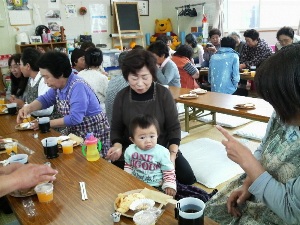 July 20 Fri. the JBC volunteer team visited to Nodamura Temporary Housings even though it was 15 degrees centigrade. JBC visited there monthly and this time was 12 times, so that God led us to do that through one year. They held two tea parties both in the assembly hall of the Noda Junior High School Temporary Housings (110 families) on the morning and in the assembly hall of the Izumizawa Temporary Housings (30 families) afternoon. 'Baptist Tea Party' is well known in both temporary housings, therefore many people wel come us. They want to develope this good relationship furtherer. Fujimino Baptsit Church (Saitama Prefecture) sent pound cakes for this visit and tea parties. Thanks a lot!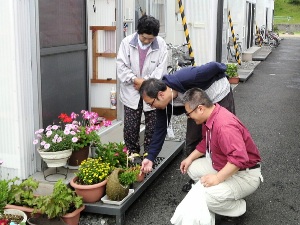 On that afternoon meanwhile they held the party a part of them visited to Monzen Temporary Housings (15 families) , to Yoneda Temporary Housings (15 families), and to Shimoyasuie Temporary Housings (8 families) in order to hand soysauce and oil to the residents. They often talked with the people long time because of warm fellowship. It is neccesary for them to keep visiting constantly.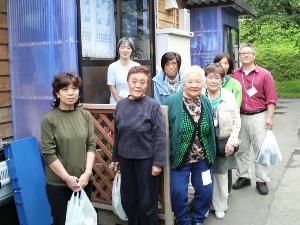 Participants were 13 persons, consisting of Same Church (5 person), Hachinohe Church (3), Sapporo Church (1), Hakodate Church (1), Hakodate-mihara Church (1), Tohno Volunteer Center (2). Next visit should be 8/7 Tue.