2012年 06月 02日
| | |
| --- | --- |
| 1st Anniversary 311 Memorial Ceremony | |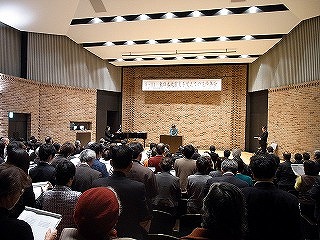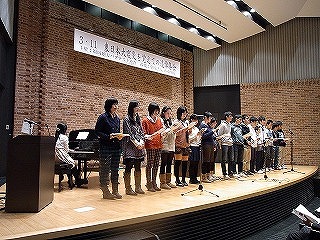 March 11, 2012 2:00pm -5:30pm, the Fukuoka Baptist Association held the 1st anniversary memorial ceremony of the Great Eastern Japan Earthquake at Seinan Gakuin University (Baptist Christian school). About 200 people gathered from 29 local churches affiliating with the association and JBC. 15 students in Seinan Gakuin, who went to the affected area to support people, participated. The university sent 90 students there in 2011.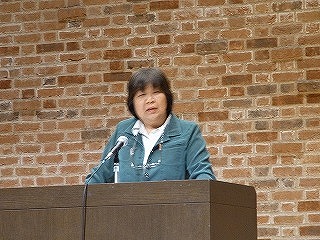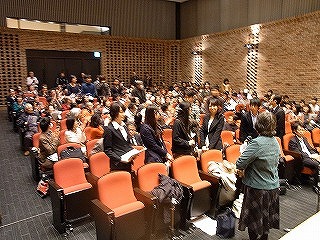 The first part of the ceremony was a memorial worship with a slide show report of the suffering people. Everyone prayed in silence at 2:46 pm, when the earthquake occured, remembering issues that the affected people face.
Baptist youth sang the special praise.
KANEKO Chikayo, Vice-President of JBC, Pastor of Miyazaki Maruyamacho Church, preached. She has been doing relief work in the affected area since March 2011. She devoted three weeks in a month to serve suffering people in Fukushima and Iwate prefectures. She reported on activities that she had adovocated, and fellowship with the affected people.
Offering in worship of JPY252,290 was donated to JBC relief committee. Right after the first part, Pastor Kaneko introduced students volunteers.
The second part was a panel discussion on 'Support activities by Fukuoka Association in future.' Panelers (the representatives of local curches, Social Justice Committee of the association, Baptist Women's Union and Christian schools) reported the relief activities which they did. And they addressed their visions in future.
After speeches by panelers, participants discussed arbitrarily. One evacuated person from Fukushima tyrtalkeded about situation of many people from Fukushima prefecture: they fled from there because of radiation contamination.