2011年 10月 30日
| | |
| --- | --- |
| October 14th – 15th, Miyagi Prefecture, Ishinomaki City, Oshika Peninsula: Volunteer Report | |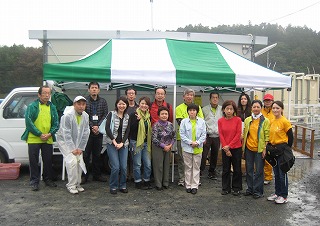 On the evening of Friday the 14th, seven people from each church departed from the JBC office in a van. We arrived at Taitomi Church in Sendai and spent the night in the sanctuary. On the following morning at 7:00 we left the church for Kyubunhama.
The JBC has been supporting this area. There is a statue of Hasekura Tsunenaga in Tsukinoura, where the Keicho-era mission to Europe originated.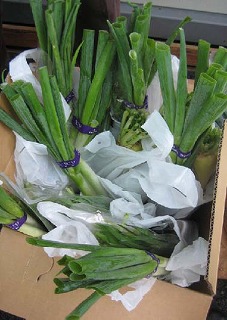 Within Ishinomaki City, and also along the shore, destroyed houses are still visible; the scars of the tsunami remain. We met up with people from Sendai Church at the community center within the prefab temporary housing complex by the beach and began our work. The project on that day was to hand out fresh green vegetables and to have a time of fellowship with the residents.
People began gathering around 10:30 and we distributed vegetables. We also set up a snack corner, which the kids loved. We had a time of fellowship as we served tea. We also visited individual households, greeting people and delivering vegetables.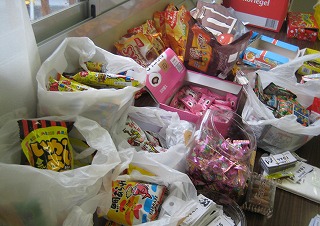 They all expressed their gratitude to us for these meager gifts and made us feel very welcome. One person said, "It's really difficult for us to go shopping. There are no stores around here, and after the disasters, merchants stopped coming this way. There is a bus that goes into town every two hours, and it costs 1,000 yen one-way! We are very grateful for the green vegetables you brought." We went back to the community center and talked with their community council leader. He spoke with passion about the recovery of local oyster farming, which has been their traditional marine industry.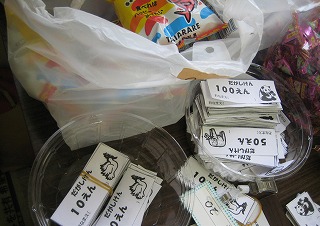 "We grow oysters by hanging them from a hundred-meter raft. We used to have 200 of these rafts, but now we only have ten. We need a facility to process the oysters in order to ship them, but it would cost 200 million yen just to build that facility. We just don't have enough money." This community council leader has just been hospitalized due to a stomach ulcer. Constant stress. Seven months since the disasters. People are trying to stand up and be restored to life again. We want to continue supporting them. (written by Ohta)