2011年 12月 01日
| | |
| --- | --- |
| Report from the 3rd visit to Nodamura Temporary Housing   Complex | |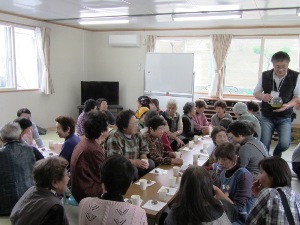 On Saturday, October 15th, 9 people from Same Church, 1 from Hachinohe Church, 2 from Hakodate Mihara Church, 1 from Tomakomai Mission Point, totaling 13 people, visited the 3 temporary housing complexes in Nodamura.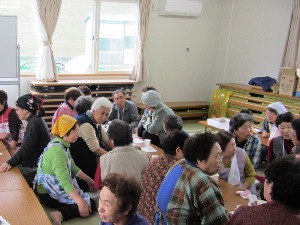 On the morning of the 15th, we gathered at Same Church (Hachinohe) for worship, then departed. First, we held a tea party at the community center of the housing complex (115 houses) in the Noda Middle School of Nodamura. From 10:30 until noon we provided tea, manju, and cream puffs. The floor of the community center has been upgraded from flooring to tatami mattresses, and it was a much better environment for them to gather together. About 60 people joined the tea party.
Also, we delivered some potatoes from Hokkaido to each household.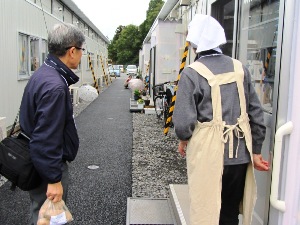 After that, we divided into 2 groups and 1 visited a temporary housing complex (3 houses) in Nōson Park in the Izumisawa area, and the other visited a complex (15 houses) in the Monzen area, delivering potatoes and snacks to each household. This was our first visit to the temporary housing complexes in this area. There is not much temporary housing here, but we would like to continue to visit these places.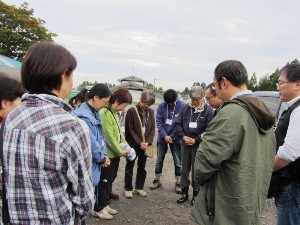 We began working together among churches from Aomori and Iwate and also the Hokkaido Area Association back in August, and this is gradually turning into a cooperative project for us. Our goal is to make visitations once a month, continually. Our next visit is scheduled for Friday, November 18th. Please remember us in your prayers.
reporter: Masayoshi Fukuda (Hakodate Mihara)