2011年 06月 11日
| | |
| --- | --- |
| Update concerning food distribution in Ohtsuchi Machi on Saturday, June 11th | |
Rev. Osuga of Morioka Church has been in contact with a shelter at Ando Elementary School in Ohstuchi Machi, Iwate Prefecture, and as a result, we provided hot meals there for the first time on June 11th.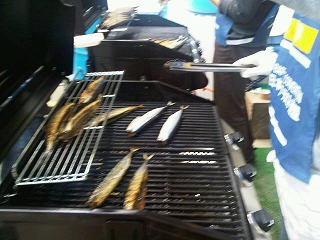 We grilled about 400 sanma (mackerel pikes), provided vegetable soup and seasoned daikon radishes. Also, since the 11th marked exactly three months since the disaster, we brought about 200 fresh flowers to the refugees, which they then displayed in various places throughout the shelter.
We left the four fish grills (propane type) with them for their daily use, in response to a request to that effect.
The Aomori/Iwate team, based in Morioka Church, will continue their support work for the stricken areas in Iwate Prefecture with the strong support of the Hokkaido Area Association.