2011年 06月 18日
1. Concerning goods-collecting and transportation volunteers
This work is almost completed. However, we will try to continue to meet needs as requests are made.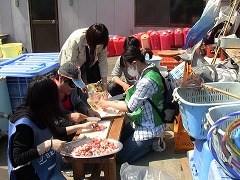 2. Concerning food distribution volunteers
We continue to provide hot meals in shelters on the Oshika Peninsula of Ishinomaki City, Miyagi Prefecture, and in Ohtsuki Machi in Iwate Prefecture. Our plan is to continue this project until the beginning of August, when temporary houses will be completed.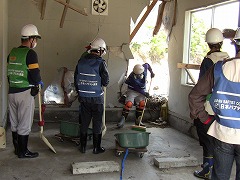 3. Concerning mud-removing, sorting out, and cleaning volunteers
We did some of this volunteer work in Oshika Peninsula, Miyagi Prefecture, but due to the heavy damage in the area there are not many houses there that are likely to be reused, so we have stopped for the time being. We will try to find other areas where this type of work is needed, and we will send more volunteers.
In addition, the disaster relief headquarters secured a volunteer base (in which 30 people can be accommodated) in Tōno City, Iwate Prefecture. Repair work has begun and it should be ready for use by mid July. We will be involved in this type of relief work in tsunami stricken areas along the Sanriku coastline through the Tōno City volunteer network.
We will begin taking volunteers by mid July.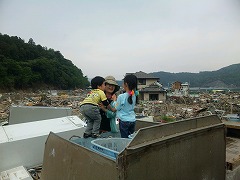 4. Concerning childcare volunteers
Kōriyama Cosmos Street Church in Fukushima has started caring for children living in shelters. They help the children with their studies, and provide snacks for them to enjoy.
Also, when we distribute hot meals, volunteers are needed to play with these children as well.
5. Concerning other volunteers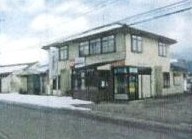 In addition, volunteers are needed for the work listed below:
☆ Repair work for the Tōno volunteer base
Repair work for the Tōno volunteer base will be carried out between late June and early July. It will require some painting and cleaning.
☆ Sorting out and organizing emergency rescue supplies
Volunteers are needed to sort out the massive amounts of support supplies that are taking up a great deal of space in shelters.