2011年 04月 07日
| | |
| --- | --- |
| Church Report from Disaster Region | |
3/28/2011
from Rev. Masato Ohsuga of Morioka Baptist Church
On Thursday, March 24th, I took a volunteer group to Kamaishi City and the town of Ohtsuki.
About Kamaishi City and the Surrounding Area
The tsunami hit Kamaishi City, reaching well beyond the area that is usually affected by their frequent tsunamis. Supermarkets are starting to reopen, but the town is still in chaos.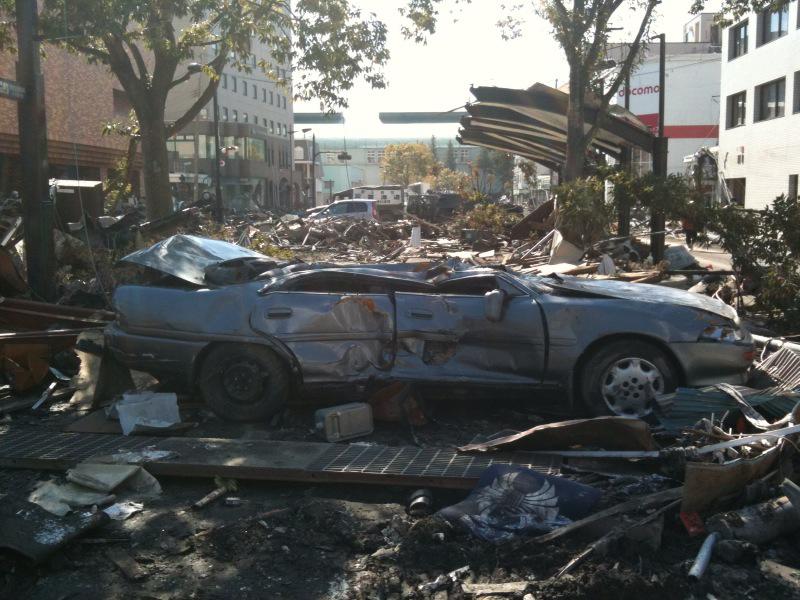 The first floors of not only wooden houses, but also of concrete buildings were are all destroyed. Some individuals have started to clear away some of the debris, but most of it is untouched.
A volunteer group was stationed there in a local church, serving hot meals. The church members seemed overwhelmed by the situation, but they also seemed to regain strength as volunteer workers and people of the community encouraged them.
Judging from my observations during the past week, what most pressingly needs to be done in this area is the clearing away of debris. Nail clippers and underwear seem to be the most needed items. I encouraged people to go to that local church for hot meals, spoke to many people, and gave out apple juice. It seemed like each person was encouraged just by being spoken to. Human warmth and physical touch seemed to be of great help to them. I plan to continue checking back with them and remembering them in prayer.
About the town of Ohtsuki and the Surrounding Area
Ohtsuki is located in the north of Kamaishi City. This time, a friend of mine who works there took me around the town. The entire town was destroyed by fire. I had heard about it in the news, but to actually see it was shocking. There was nothing left after the fire. An elderly lady in that area said to me, "First came the earthquake. Then a little later, the tsunami struck. On top of that, a nearby gas station caught fire. It spread all across the town. Then the water swallowed up cars, houses. It swirled around the town and swallowed it up. Of course many people were swallowed up too."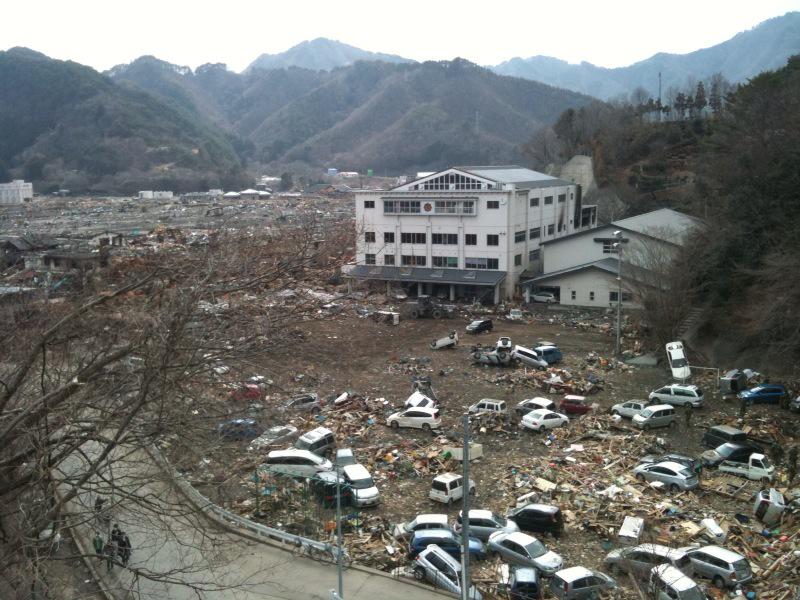 A Disaster Relief Headquarters was set up in the town immediately after the earthquake, and they were having a meeting in the Town Office when the tsunami came. It took the office and the leaders in its wake. The whole town is gone, and the Town Office is gone, so there is no functional administration.
However, the Disaster Relief Headquarters has been reestablished, and the Self Defense Force will soon begin cleaning up the area. Above all, it was encouraging to see this friend of mine working so hard to rebuild his own workplace. I will continue to remember this town in prayer as I gather more information through this friend.
++++++++++
3/28/2011
from Mr.Shinkichi Ito of Taitomi Church
Praise the name of our Lord. We are grateful for all the prayers and encouraging words from our many brothers and sisters in the Lord since the earthquake. Additionally, we are grateful for the rescue supplies from many different places, especially the JBC.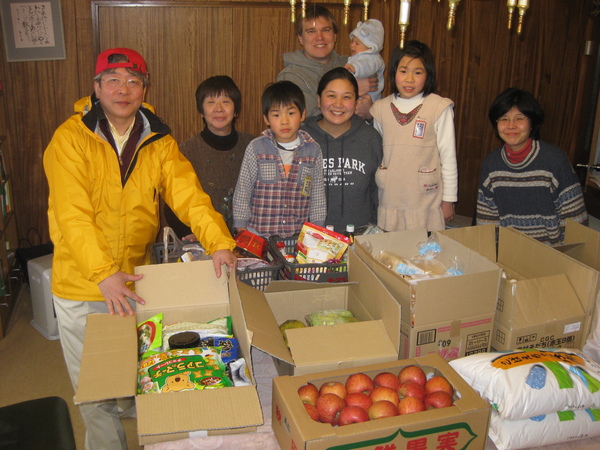 Yesterday, rescue supplies were brought to us by Sakata Nozomi Church in Sakata City, Yamagata Prefecture. Rev. Fujii and his family, thinking of the many families in our congregation with children, sorted out the rescue supplies and delivered them to me.
Among them were included some rescue supplies funded by special offerings from Arlington Baptist Church in Texas, USA. At that time, postal services were still not functioning, so when we went to church members' houses, although it was late at night, children came out to meet us and seemed extremely happy to receive a package.
Last week, I visited the Arahama area in Wakabayashi Ward, which was the most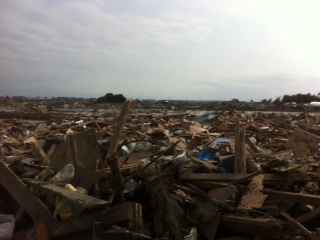 damaged area in Sendai City. Arahama is the only place in Sendai City where people can go swimming, and is usually a lively place in the summer. As I drove along the Toubu Highway, all I saw were houses with damaged roofs and walls, but once I got off the highway, it was like a different world. A church member who is the Chief of the Wakabayashi Fire Department had explained it to me ahead of time, but as I witnessed the scene, realizing the force of nature and thinking of the many bodies still undiscovered underneath all the rubble, I could not help but cry.
In this area, the Police Department, Self Defense Force, and Fire Department are continuing their search, and civilians are generally not allowed in. My coworker's house was damaged, and I was given permission to pass the checkpoint in order to help him clean up his house. Inside the house, there was a line on the wall showing that the water had been over a meter high, and I could see that parts of other people's houses, lumber, and trash, were piercing his walls, and that there was no way the debris could be cleared away by human hands. However, we took out all of his tatami (straw) mats and cleared out the 15cm of mud that covered his floor. I saw a young girl carrying mud out of her house, fighting back her tears. I felt a lump in my throat as I learned that her elementary school graduation was to be held the next day.
There is a great need for volunteer workers, but generally people are not allowed in the area, so it is mostly individuals and their families who are doing the cleanup work.
I'd like to thank all of those who have offered to help. Since last night, Executive Secretary Kato and Rev. Sakamaki of Norcross Church from Atlanta, Georgia have been visiting Taitomi, conducting research for their upcoming relief work. Secretary Kato gained some experience with relief work after the Great Hanshin/Awaji (Kobe) Earthquake, so he probably has some good advice for us. I have heard that people from the Mission Board will be coming to Taitomi from Kyoto tomorrow.
As I wait for this JBC relief work, my wish is to be a helping hand to those in need rather than a victim. I want to be of use in the recovery of my hometown.
++++++++++
3/26/2011
from Rev. Masato Ohsuga of Morioka Baptist Church
Morioka City is surrounded by mountains and it is on very stable ground. Therefore, this earthquake did not leave us with much damage.
After the great earthquake on the 11th, the entire city of Morioka experienced a blackout. Natural gas and running water were flowing normally, but high-rise apartments and those houses that run entirely on electricity lost all of their utilities, which made it difficult for them. We experienced aftershocks all night long.
The few mountain-roads that connected Morioka City to neighboring cities have all been destroyed or blocked, so distribution has stopped, and all areas – including undamaged areas – are starting to run low on supplies. Gasoline, kerosene, groceries: everything is in short supply.
However, concerning utilities, electricity, water, and natural gas were all recovered around 9:00pm on the 12th in the area around the church. By the 13th or the 14th, most other areas recovered utilities as well. All church members were unharmed.
But as soon as the electricity came back on, we found out about the devastation of the coastal areas beyond the mountains, and we felt an even greater darkness. The roads to those seriously damaged areas are only open for emergency vehicles, and since we lacked rescue supplies, we were unable to go there. The lack of gasoline is severe, and even now we are greatly restricted in our ability to get around. Ours is a damaged area, though not as seriously as other areas. We cannot get around, and we feel heavy hearted.
However, we feel relieved to know that our church members and their relatives in Iwate Prefecture, Miyagi Prefecture, and Fukushima Prefecture's coastal area have all been confirmed to be alive.
On Thursday, March 17th, Rev. Fukuda of Hakodate Mihara Church visited us as a representative of the Hokkaido Association, and as an Area Mission advisor. On Monday, March 21st, Rev. Fukuda from the Hokkaido Association came again, this time with Rev. Jeon of Hiragishi Church. They asked about our current conditions and prayed for us. They also gave us many supplies, including some much-longed-after kerosene and gasoline.
On Tuesday, March 22nd, we visited Rev. Kaneko of Taitomi Church with Rev. Noguchi of Yoshioka Mission Point, which is located in the north part of Miyagi Prefecture. We delivered some supplies that had been given to us by the Hokkaido Association. They were grateful, especially for the perishable food items and gasoline. We were greatly encouraged to see them face to face. We are thankful.
Yesterday, the restrictions on Tohoku highways and roads to the coastal areas were lifted, so I drove a research team called "Acts of Mercy" to the coastal towns of Kamaishi and Ohtsuki. I had visited the Prefectural Office the day before, but they seemed unable to do much of anything at that point. They were busily trying to help those coastal towns that had lost city offices and personnel in the tsunami. When I asked different people in the Prefectural Office if they had enough supplies and medical staff, they all replied that they did, but I personally think that the distribution of supplies has not been carried out effectively. It's true that supply-goods are overflowing in the warehouses in Morioka City, and that they have stopped accepting supplies from other areas. However, many have said that their areas have not received any supplies. Therefore, many volunteer organizations have started going into those areas directly and operating on their own. In light of this, we try to distribute goods directly to those areas; things that were given to us by the Hokkaido Association have been distributed there.
++++++++++
3/21/2011
from Rev. Suzuki of Kouriyama Cosmos Street Church
Since many of you are worried for us on account of the Fukushima nuclear power plant, let me make a report.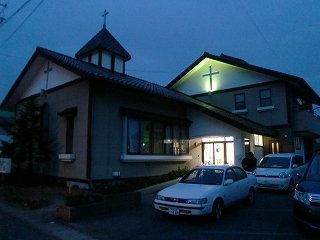 Compared to other areas that were damaged by the earthquake, our church's situation is not as serious. Last week running water came back on, and we have been able to buy things in a local supermarket. Rescue supplies have been delivered to Kouriyama City, but there is no way to deliver them to the coastal towns, so supplies are piling up in shelters.
So we have been able to go on with our lives, but we are concerned about the nuclear power plant.
Currently, the amount of radiation in Kouriyama City is not so high, and we are not technically prohibited from going outside, but local government officials encourage us not to go out unless absolutely necessary. Our uncertainty is increased by the direction of the wind and the condition of the nuclear power plant. But people in Kouriyama try to accept this situation as calmly as possible.
We, as a church, try to be careful when we go outside, and pay close attention to the situation. Due to the shortage of gasoline, we are considering asking people to pray at their homes on Wednesday nights instead of coming to the church for a prayer meeting, but we have decided to have worship in church every Sunday.
One thing to say about our church is that our congregation includes a pregnant woman and some elementary school-age children, so we decided to have them evacuated to the JBC office temporarily. We are grateful for the JBC's kindness.
As you can see, our church is currently under a unique kind of tension. However, we are supported by many prayers and we are grateful.
Today we gathered together for worship, and as I looked around at the congregants, it touched my heart to see their willingness to worship the Lord under such difficult conditions, and I felt encouraged. One member of our church was ordered by his company to evacuate from the prefecture, but still 27 people gathered together for worship.
We continue praying daily to seek how to accept this situation and what to do next (surely everyone living in affected areas feels something similar). I believe that even a time and situation such as this are within God's sovereignty.
Each damaged area has its own issues, and each church is wrestling with those issues. Please continue to pray for us.
++++++++++
3/19/2011
from Rev. Igata of Nankoudai Church
Nankoudai Church and its pastorate were completely undamaged. I am very happy we were able to complete the church building 3 years ago, and the retaining wall (a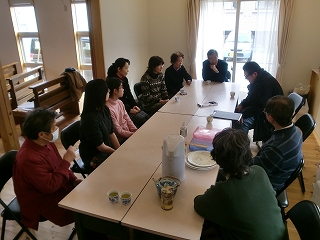 protective wall around the foundation) 2 years ago. We are still unable to reach 3 of our church members. We continue to pray that they were able to evacuate to a safe place, out of the tsunami's reach. All other members are fine. On the 13th, we were able to have a worship service with some evacuees from the community. There were cries of "Lord, why?" and prayers expressing our inability to take even a step without faith. It was a tense service. I was grateful that we were able to express all of our cries and hopes toward God with that tension. Our sanctuary has served as a shelter since just after the earthquake, and at one point, 22 people were living there. Now there are 7 or 8 families, including 3 church members. There is also a 91-year-old woman there. We had only candlelight for 4 days. We are still without running water and natural gas, but we have been able to cook since we have propane tanks. The reality is that the victims of this disaster have the least access to information about it. As aftershocks continued over several days we gradually started to understand the bigger picture. Around that time, some children who had been living in the sanctuary and some church members with children decided to leave for Yamagata and Niigata Prefectures, due to the dangerous radiation. We stayed indoors for 2 days or so, but on Thursday we found some people who needed water and food in our community, so we were unable to avoid exposure to the rain, snow and the outside air. We had a discussion with other refugees and decided to deliver the necessary goods to those who needed them most. Then we asked some current and former volunteer social workers to find out about what was needed, and we began our support work. The worst cases involve people without access to food or water. Those cases include one elderly person who is being supported by another elderly person, elderly couples, a family with a handicapped person, a person with very little strength who lives alone, and people who are struggling financially, who are able to walk around but are unable to afford the currently overpriced food. We will continue to support those who are most familiar with the needs of the community and those who are helping others on a volunteer basis.
The tsunami damage is severe. Maybe "severe" is not a strong enough word.... You who are able to watch television probably know more about it than we do. Today we heard stories from a church member's brother, whose house was totally destroyed. They showed us pictures; the situation is just beyond our comprehension. Rescue workers came and searched the area for anyone who might still be living under the wreckage, and they told us that there will be many dead bodies found in those areas where the tsunami hit. We heard that in one town, because rescue workers have not yet reached it, high school students are collecting bodies. We do not know what to say.
With thanks for prayer and support.
Hanae Igata
Nankoudai Church